As salon and spa leaders look for ways to improve efficiency and future-proof their business, a new trend has begun to emerge in the industry to accomplish these goals – the deskless front desk.
To some, the concept of a deskless front desk may sound scary, but this model is already helping beauty businesses realize incredible success. One such example is Meevo client Salon Rootz, whose average service and retail per ticket have increased over 17% since they implemented a deskless front desk.
But what exactly is a deskless front desk? While the setup and execution will vary from business to business, the main purpose of this concept is to automate the front desk experience for both clients and staff.
The outcome is a more streamlined check-in and checkout for clients (enhancing the client experience) while freeing up all staff members to focus on other areas of the business to increase efficiency, boost rebooking percentages, and improve operations.
To help you get started on your deskless journey, we've put together 8 steps that will prepare your salon or spa for this innovative business model.
1) Enable Online Booking
For many salon and spa guests, online booking is their first interaction with your business and allows them to schedule their next appointment anytime and on any device. This feature is also a critical component of the deskless front desk model.
Not only does it free up staff from having to book appointments over the phone, but it also provides greater control for clients to schedule, edit, and cancel appointments on their own, which improves the client experience. Spa and salon software like Meevo can provide powerful online booking features to help make your booking process easier than ever!
2) Use a Booking Agent Add-On Feature
Not only can salon and spa software offer online booking, but it can also let owners utilize a Booking Agent feature to book appointments. This resource can be invaluable for multi-location businesses as your software will scan for open appointments at any store to maximize bookings.
One of the benefits of the Meevo Booking Agent add-on is that staff can easily book appointments for multi-location salons and spas in a back office, taking pressure off of the front desk – improving efficiency and once again freeing up staff and Service Providers to focus on client satisfaction and rebooking.
3) Offer Digital eGift Cards
Another way to let clients plan for future appointments and fully implement a deskless front desk is by offering eGift cards that can be purchased online through your salon appointment software. Once a client buys a gift card, it can be emailed or mailed to clients (or even picked up in-store) to be redeemed in the future.
Meevo offers an eGift platform that lets clients offer fully customizable digital gift cards through their website, providing salons and spas with another excellent revenue stream for their business!
4) Automated Confirmations and Reminders
Once a client books an appointment, you want to ensure they don't forget about their upcoming service through confirmations and reminder communications, such as text messages and emails.
Utilizing salon and spa software can help automate this important process, allowing your staff to spend less time at the front desk making calls or sending emails – and instead focus on elevating the client experience and increasing rebooking percentages.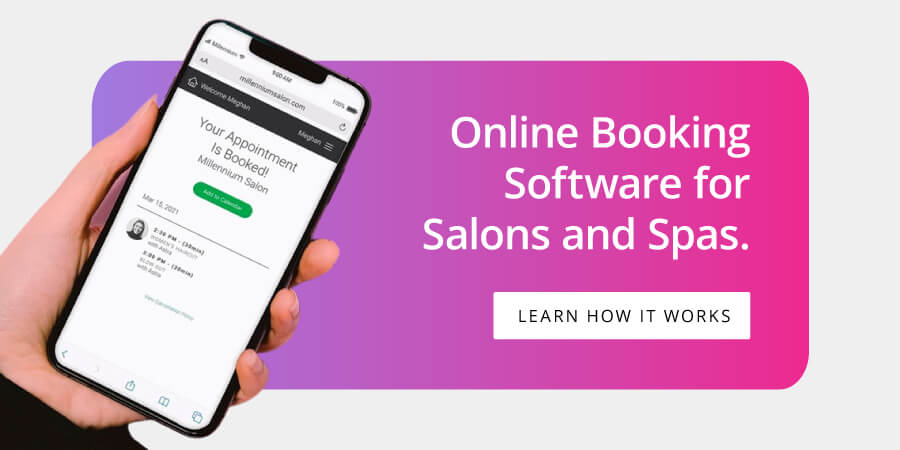 5) Digital Intake Forms and Documents
For many years, clients were asked to fill out intake forms and documents in the waiting area. But as more clients want a contactless experience in-store, moving to digital forms and documents will help streamline the check-in process, enhance the customer experience, and further improve the deskless front desk model.
Through software salon and spa software like Meevo, forms can be sent automatically by email once a client books an appointment to be completed before their visit. Coupled with online booking, not only do digital forms help streamline the deskless front desk, but they also help enhance the client experience to boost retention numbers!
6) Self Check-In Kiosk
For salons and spas with a limited waiting area, a Self Check-In Kiosk is one solution to improve the client experience and create a deskless front desk. This is one of a few possible resources that can let clients check themselves in when they visit your business, speeding up the check-in process and reducing the number of clients and staff around the front desk area.
For Salon Rootz, the Meevo Self Check-In Kiosk is essential to their successful deskless front desk. "I love the Self Check-In Kiosk because it gives our clients a modern, innovative check-in that matches their experiences in other high-tech settings like hotels and airports," says Jen LeBlanc, Director of Marketing & Operations.
7) Chairside Checkout
In addition to streamlining the client experience with the Self Check-in Kiosk, leaders can improve the efficiency of their checkout process using truly mobile salon and spa software.
Meevo users can conduct the entire checkout experience – from payments and client notes to rebooking and retail sales – at the chair through tablets or mobile devices to eliminate the need for clients to visit the front desk after their service is complete.
8) Meevo Self-Pay
Chairside checkout is an essential element of a deskless front desk, but one feature in particular really enhances the process for clients – Meevo Self-Pay.
This technology enables salon and spa clients to pay for their services securely through their mobile devices. Clients can choose to use a card already stored on file or use a different card while also adding a tip if they choose. Offering a mobile checkout option can help elevate your deskless front desk model as it did for Salon Rootz!
Increase Your Efficiency and Client Experience with a Deskless Front Desk
By exploring the deskless front desk model, salon and spa leaders can help improve business efficiency and productivity while enhancing the client experience, resulting in more booked appointments.
To learn more about the deskless front desk, be sure to watch our Coffee Talk with Jen on our YouTube channel!
Discover how Meevo can save you time, increase revenue, and simplify your day-to-day
with smart and reliable tools designed for beauty businesses just like yours!