Seamless. Simple. Secure.
MeevoPay is an all-in-one payment processing solution with low fixed rates, industry-leading fraud detection, comprehensive POS options, and faster funding so you can unlock profitability with less hassle.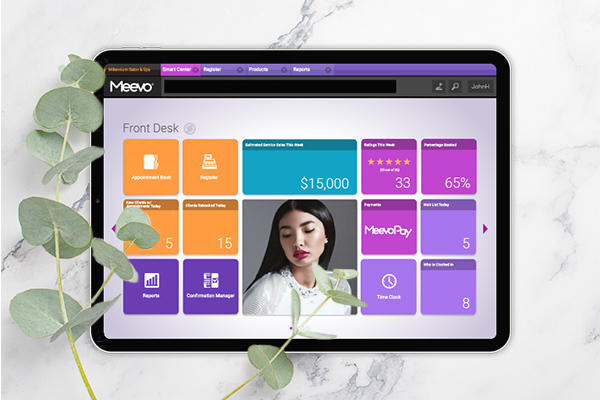 Seamless
Embedded into Meevo's salon and spa software, MeevoPay's integrated reporting and easy onboarding saves time and increases productivity. Extensive merchant services, deposit tracking and expert customer service let you focus less on snafus and more on growing your business.
Simple
Let clients tap, chip or swipe their way through checkout with more affordable, functional and contactless point-of-sale terminals (first one is free!) and options like Apple Pay or Google Pay. Plus, setup is a snap so you never miss a beat.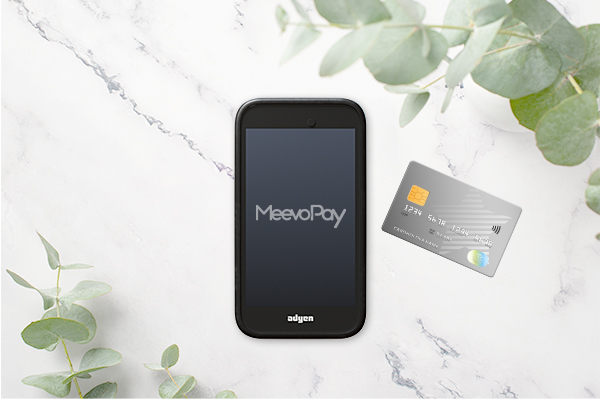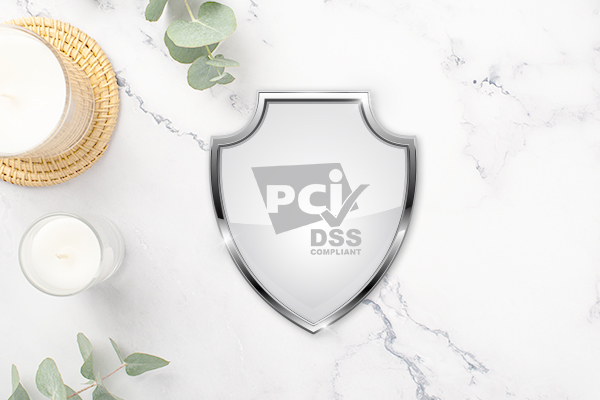 Secure
Fraud protection in real time. Our PCI DSS compliant risk mitigation tools block known fraud cards, lowering the risk of chargebacks and increasing conversions—giving you peace of mind that your clients' data is in safe hands.
Competitive Flat Rate Pricing
More Ways MeevoPay Elevates Your Business
Low, Fixed Rates
Transparent pricing, competitive low fixed rates with next day funding and no long-term contracts
Real-Time Account Updates
Change routing or format details to ensure successful payments
Simplified Checkout
Effortlessly process payments anytime, anywhere—online, in-person and chairside, or from your Meevo app.
Less POS Downtime
Save time troubleshooting and prevent transaction delays with a guaranteed point of sale uptime of 99.95% or more.
Integrated Reporting
Visibility into your daily transactions and deposits for quick and easy reconciliation
Convenient Self-Pay
Let clients pay safely and securely from any mobile device for a seamless, contactless checkout experience.
Flexible Payment Options
Process memberships, recurring transactions, appt. deposits and more
Superior Equipment
Sleek and compact POS terminals (first one free!) to fit your needs
Superior Customer Support
Rely on Meevo's unparalleled support team to answer questions and help manage reconciliations and chargeback disputes.
Midsized & Enterprise Business Benefits
No matter the size of your salon or spa, MeevoPay streamlines your workload and enhances the customer experience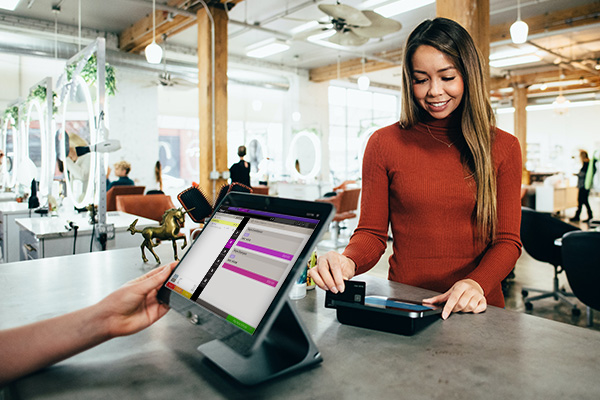 Globalized Tokens
Share payment information across locations for improved client management
Custom Processing
White label MeevoPay to incorporate your brand into payment processing
ACCOUNT MANAGER
A dedicated MeevoPay Merchant Account Manager is assigned to the account
RISK & FRAUD PREVENTION
Built in risk and fraud mitigation tools to mitigate chargebacks and optimize authorization rates
Transparent Pricing and Frictionless Onboarding
Preferred fixed rates save you money and avoid rate volatility

Next day funding

No cancellation or termination fees

No fees for account updates, token storage or refunds

$0 eGift fees only for MeevoPay users

Signup grace period means no fees when switching payment processors
Enhance Your Clients' Experience with Flexible and Convenient Options
Accept tap, chip or swipe debit and credit cards

Enable PIN-less debit payments

Accept Apple Pay and Google Pay

Provide contactless Self-Pay and Chairside Checkout options

Allow clients to pay with preferred payment methods

Store credit cards on file for faster check-out

Enable charitable donations for eCommerce and POS transactions
Improve Operations and Productvity with Built-In Solutions
All-in-one business management software and payment processing solution

Single source for transactions across all sales channels—online, in person, app payments

Supports recurring payments (memberships and payment plans)

Process secure deposits for Online Booking

Real-time account updating

Accept payments for CBD topical products

Easier payment reconciliation and reporting
Save Time with Smooth Onboarding and First-Class Support
Fast and efficient application process

Unparalleled service and assistance provided by MeevoPay support teams

100% U.S.—based client support

Integrated reconciliation and chargeback support

Assistance with chargeback disputes

Automated authorization rate optimization tools

Education tools to help prevent disputes
Frequently Asked Questions
Is MeevoPay available for all Meevo clients, even if we're a smaller business?
+
Is MeevoPay more expensive than other payment processors?
+
What payment types does MeevoPay support?
+
Does MeevoPay handle any disputes or chargebacks?
+
Does MeevoPay handle service issues and troubleshooting?
+
If the MeevoPay POS service is down, can we still accept payments?
+
Will MeevoPay help me reduce all returns or fraudulent activity?
+
Where can I learn more about the MeevoPay Terms of Service?
+
MeevoPay: More than Payment Protection, It's Peace of Mind
Contact our MeevoPay Merchant Services team for a free rate assessment to see how MeevoPay compares to your current payment processing provider.