Blogging is a budget-friendly way to benefit your business long after hitting the 'publish' button. Your salon blog's success relies on careful planning and strategizing. While you can write about anything you want, having a goal for your blog ensures your content makes sense for your salon and clients and helps you meet your business objectives. A blog is a way to market your business, so consider your marketing goals and how your content can help achieve them.
Use this guide to create powerful content that will help increase brand awareness and your revenue. Use this guide for creating powerful content that will help increase brand awareness, as well as your revenue.
What Are the Benefits of Blogging?
Blogging on your salon's website is one of the best ways to differentiate yourself from your competitors. By providing your unique insights, you can ultimately increase your bottom line.
How? As one of the most cost-effective marketing and branding strategies, blogging has many benefits for your business, such as:
Naturally grows traffic to your website
Supplements marketing campaigns
Establishes your business as an industry leader
Increases your online presence by boosting your search engine optimization (SEO)
Helps convert traffic into leads
How Do You Write Salon Blog Content?
So you want to blog, but where do you start? This is where your goals come in. What you want to achieve through your blog will help you determine what topics to choose. Before creating content, it's essential to be clear about your objectives. There are a range of blogging goals you can set:
Increase customer engagement and loyalty: Educate your clients and gain insights on what products and treatments they like.
Increase online visibility in search engines: If you can rank for the terms people are searching for online, you can increase traffic to your website and gain new clients.
Attract new clients: Creating content about your approach to business and what makes you unique can help to bring in new clients.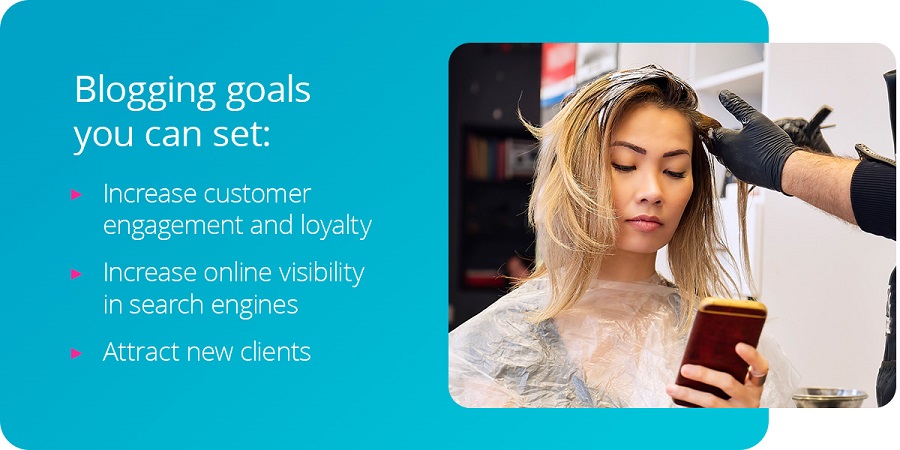 Write your goals down and review them regularly. If you have limited time to write blogs, starting with one goal and doing it well may be wise. Trying to do more than you can handle will compromise the quality of your content. Once you have set your goal, you can get started with your content. Creating processes for your blog will help ensure its success. Your beginner action plan:
Plan your blog posts: Staying on top of your content will ensure you stick to your goal and can stay flexible. Creating a content calendar with post ideas and schedules will help you stay organized. Create a plan for how you will share your blogs. Will it go on social media? In your newsletter? On community forums? Sharing your content after publishing will help maximize its reach.
Choose your topics: This is crucial. You don't want to bore people or come across as too sales oriented. Share knowledge that benefits your clients. How can your salon make clients' hair or skin look and feel better? Inform them of the latest trends and products and stay up-to-date about industry trends.
Make it easy to read: Readers should be able to scan and skim through your blog posts quickly. Write an attention-grabbing blog that keeps clients interested until the end.
Include graphics: People love seeing what you do. Showcase hairstyles, products, and team members to give readers insight into who you are. Make sure the graphics relate to the content on the blog. Visual elements also help break up the copy and make the blog easier to read.
Proofread before posting: Before posting your blog, check it for grammar and spelling mistakes. Ask a colleague to also read through it. Error-free writing will maintain your credibility with readers.
Share on socials: Once you've posted your blog, promote it on your social media pages. Use the caption to briefly talk about the blog and invite people to click the link in your bio to read more.
Hair Salon Blog Ideas
Coming up with relevant topics your audience is motivated to read can be challenging when starting a blog. This list of spa and hair salon content ideas can help you brainstorm topics for your blog posts.
Research popular trends: Research popular industry blogs and publications. Blogging about popular trends is also the perfect opportunity to share your before and after pictures and the on-trend styles you create in your salon. This blog by Cosmos Salon Studios about summer hair trends is the perfect example!
Respond tocommon client questions: Working behind the chair is a great way to find relevant content ideas. Use your clients' most common issues and questions (thinning hair, dry skin, etc.) as inspiration for your blog. This salon has a blog that answers a client's FAQ on how often they should cut and color their hair.
Review products and treatments: Let your readers know when you add new products and treatments, including a video to educate and show your clients how to use them. In their blog, Mane Addicts educates readers on their experience with a scalp facial.
Introduce your team: Showcase the faces behind your salon. It is an opportunity to celebrate your team and speak about their strengths, awards, certifications, and personal interests. Clients can get to know your team, which may help them feel more comfortable knowing they are in professional hands.
Share your knowledge: You're an expert in your field, and a blog is the perfect way to show it. Share professional hair tips that will help and educate readers while earning their trust.
Start Your Blog and Improve Your Marketing With Meevo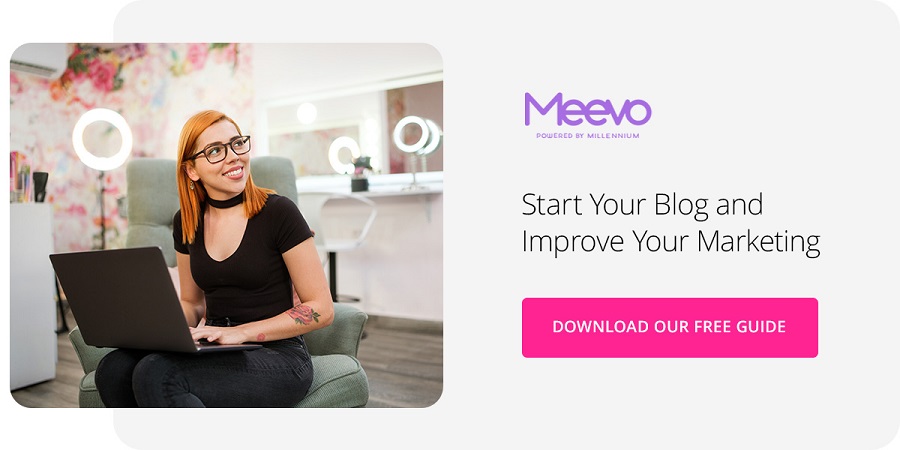 With the right strategy, blogging can be a powerful tool for your salon and spa. Take the time and effort to position your blog as a high-quality aspect of your brand to leverage it to set you apart from the competition. Need a little more guidance? Download our free guide for everything you need to know about starting a successful blog.
At Meevo, we save you time on the daily operations so you can focus on other aspects like creating compelling blogs. Discover more about how our intelligent salon management system can increase your business's efficiency. Request a demo today and start growing your salon!