Attracting new employees requires careful planning. Every salon wants to hire the best staff, but between writing an honest and appealing job description and posting an alluring advertisement, the hiring process may seem daunting. Crafting the perfect message will help you attract a range of potential candidates, and your new hires will know what you expect of them on their first day.
As you write your job descriptions, remember that competitive salaris and excellent benefits are only part of attracting top talent. Job seekers also want to work for companies with healthy, inclusive cultures.
Tips for Writing Salon Job Descriptions
A compelling job description tells candidates more about an available role and encourages them to apply. These tips will help you write a comprehensive job description for your positions and attract your ideal candidates.
1. Define the "Who"
Take the time to create an outline of your ideal candidate. More than having excellent skills and qualifications, a candidate must mesh well with your company culture to be the best fit. Some questions to consider before hiring:
What skills will add depth to your team and further your success?
What personality type will fit best with your current employees?
What qualities are you looking for in a new team member?
Once you have a clear picture of the type of candidate you are looking for, you can craft a job description surrounding the baseline duties and qualities you want in a new employee. When writing a job description, describe the daily tasks, required skills, and necessary requirements to succeed in the position.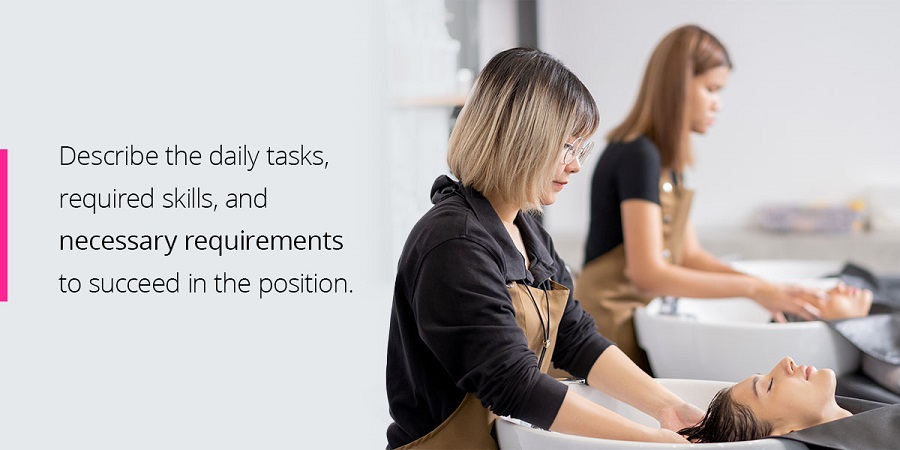 2. Craft Your Job Description
Now that you've determined what type of candidate you are looking for, the second step is creating an enticing job advertisement. A well-written job description can attract the ideal candidate who is passionate about working at your salon.
Keep the copy concise and compelling: Give the candidate an idea of what your salon is like and include the aspects that may interest them, like your core values, responsibilities, and requirements.
Explain what they can expect: Write straightforward descriptions of job duties. Aim to keep it short, while providing enough clarity to understand the expectations.
Clarify necessary and desired skills: Your requirements must show which skills you require and what are value adds. You'll attract diverse candidates and demonstrate a culture that encourages growth.
Use inclusive language: To reach a wide range of candidates, write your job description using inclusive language that highlights your positive work culture. Tell candidates why your salon needs them.
Make it personal and on brand: Your job description should match the overall vibe of your culture. For example, you may lose people if your messaging is formal, yet your culture is casual.
Promote the company and position: Tell candidates why they should want to work with you. Highlight the benefits and exciting parts of the job. Do you have a training program? Do you offer medical benefits? The goal is to give candidates a reason to choose your salon over another.
Create a sense of urgency: Compel candidates to apply with a call to action like an email address or link. Make sure to add specific start dates.
An excellent job advertisement will help a candidate get a feel for your business and whether they are a good fit. Be honest and transparent about all you have to offer and what new employees can expect on their first day.
3. Advertise (Beyond Craigslist)
While Craigslist is the most widely used platform to post job advertisements, there are better ways to find candidates. Post your job in at least three places for best results. Advertisement locations to consider:
Local schools
Professional job boards such as Indeed.com, Monster.com, or CareerBuilder.com
Local newspaper
Your business website
Your social media
Download our educational guide for a more in-depth, step-by-step guide to writing job descriptions and advertisements. This guide will provide every element necessary to start the hiring process, so you can grow your team with the best candidates possible.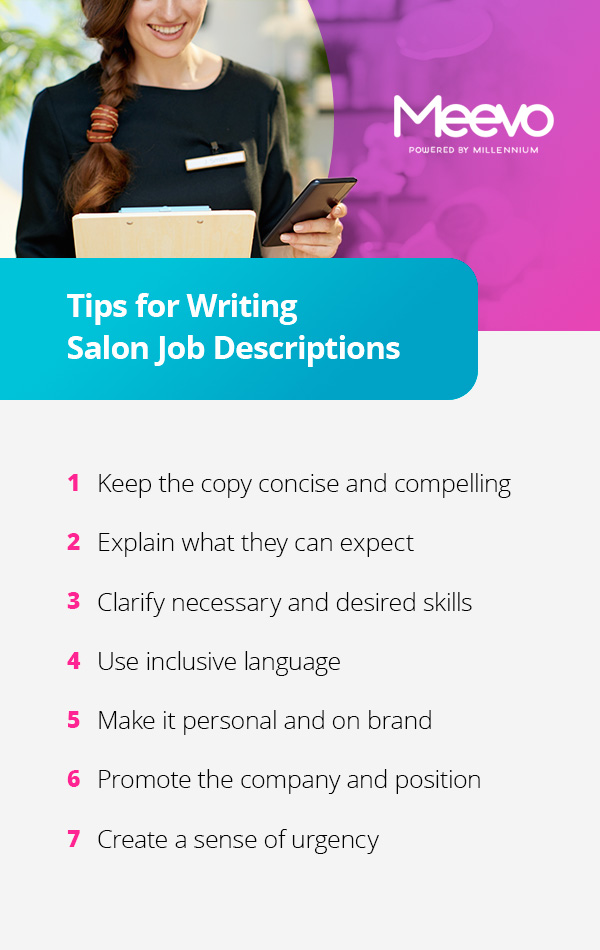 Salon Manager Job Description Example
A salon manager is responsible for running a hair salon's daily operations. They lead the team, provide outstanding customer service, and ensure client satisfaction.
Job Overview
We are hiring a passionate salon manager to be part of our talented team. The salon manager oversees day-to-day operations, including supervising staff and promoting the salon. If you're excited to grow your career and be part of an innovative work culture, we'd like to meet you.
Responsibilities
These are some of the responsibilities you will carry out in your role as salon manager:
Lead the team to provide excellent customer service.
Manage daily operations, including opening and closing procedures, staff scheduling and behavior, and client intake procedures.
Interview, hire and train new salon staff.
Maintain product inventory and ensure there is enough on hand.
Service and order new equipment when needed.
Resolve customer complaints and staff disputes.
Apply and reinforce hygiene practices with staff.
Keep records of profits and expenses.
Ensure all treatments are up to standard.
Requirements
We require these skills and qualifications in a candidate to fulfill the responsibilities.
Degree in business administration or relevant field
Professional state-issued cosmetology license
Work experience as a hair salon manager
Basic understanding of bookkeeping
Excellent organization, communication, and leadership skills
Sound knowledge of hair products and treatments
Interested in learning more about the salon industry and trends
An additional certificate in cosmetology is a plus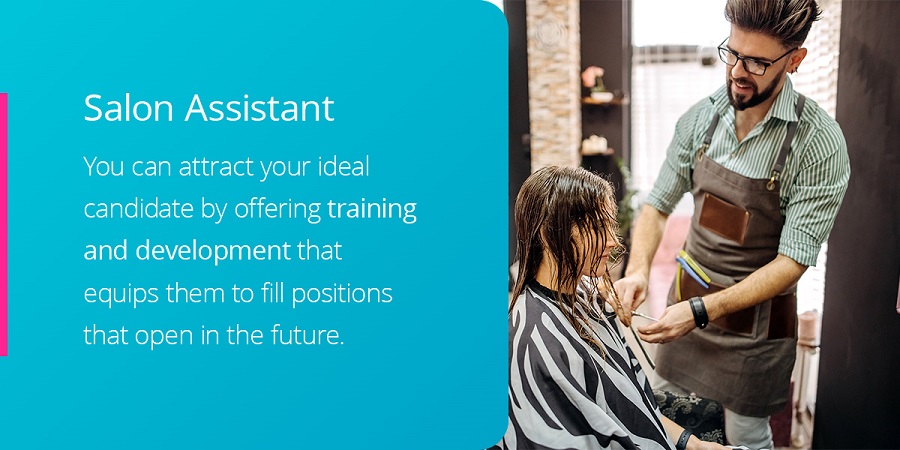 Salon Receptionist Job Description Example
A salon receptionist manages the front desk, greets and tends to customers, manages salon bookings, and does other administrative tasks such as answering phone calls and emails.
Job Overview
We seek an organized and professional salon receptionist to join our team. In this role, you'll be the face of our friendly culture, greeting clients, processing transactions, and managing the front desk. You will be the primary contact between clients and the salon staff and will work alongside the salon manager for daily operations. If you want to work with us to maintain our outstanding reputation in the community, we would like to meet you.
Responsibilities
Your daily responsibilities will include the following:
Greet clients warmly and professionally.
Confirm appointments with clients over the phone or via email.
Notify stylists when a client arrives and their requirements.
Process cash and credit card transactions and issue receipts.
Manage phone calls, deliveries, and emails.
Ensure the reception area is clean and presentable.
Assist with sales and marketing by providing clients with information on promotions and new services.
Offer drinks to customers waiting for treatments.
Perform administrative tasks such as filing and updating client records.
Requirements
High school diploma or GED
Bachelor's degree is a plus
Minimum one-year experience as a salon receptionist or a similar role
Basic computer knowledge and proficiency in MS Office
Excellent organizational and record-keeping abilities
Ability to handle financial transactions
Strong written and verbal communication skills
Excellent customer service
Salon Assistant Job Description Example
A salon assistant is responsible for shampooing clients and giving them a scalp massage while they wait for their hairstylist. They also welcome the clients and offer them a drink when they arrive. The position is a junior role and ideal for candidates wanting to become a stylist or colorist. You can attract your ideal candidate by offering training and development that equips them to fill positions that open in the future.
Job Overview
Our salon prioritizes giving our customers a first-class experience. We are looking for an eager assistant to join our friendly, professional team. Our ideal candidate must professionally carry themselves and be willing to learn and grow in the industry. They will be hardworking and aspire to grow into a hairstylist or colorist role.
Responsibilities
These are the daily responsibilities you will carry out in your role as salon assistant:
Listen to clients' requests and suggest appropriate products.
Prepare the hairstylist's station.
Shampoo clients' hair and give them a scalp massage.
Sweep the floor between treatments.
Mix hair colors.
Clean sink between hair washes.
Maintain a supply of fresh towels and capes for washes.
Wipe down surfaces between clients.
Clean and sterilize equipment such as scissors and clippers.
Assist with salon opening and closing.
Requirements
To be successful in the role, we desire the following skills and qualifications:
High school diploma or GED
A state-issued cosmetology license is preferable
Customer service experience is a plus
Hair product knowledge or willingness to learn
Passionate about hairstyling and coloring
Eager to learn more about the industry from stylists
Excellent customer service skills
Ability to work in a fast-paced environment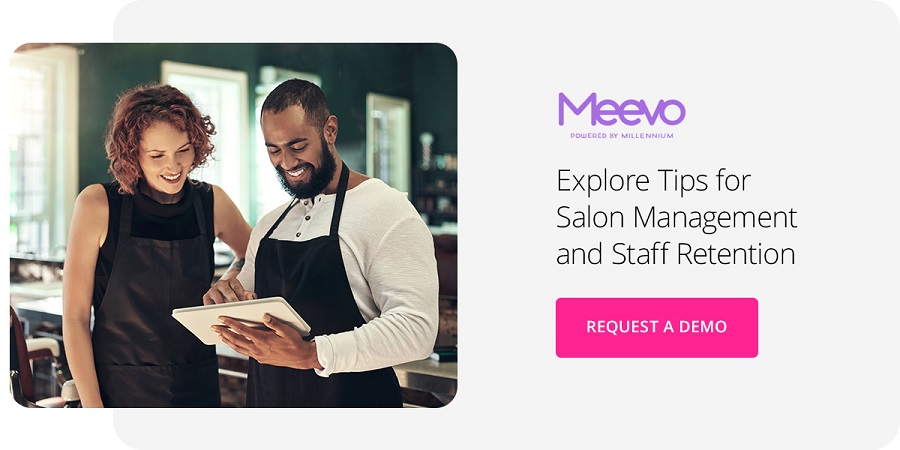 Explore Tips for Salon Management and Staff Retention From Meevo
Hiring staff for your salon is more than filling a role. It's about finding the ideal candidates that fit your culture and help you grow your business. Writing a compelling job description is the first step to recruiting top talent. Once you have hired the perfect fit, investing in and supporting them is essential to ensure they stay with you for the long run.
At Meevo, we are passionate about helping salon owners improve their business operations using effective management systems. When your systems run well, you can focus on the core of growing a successful salon. Schedule your demo today to learn more!