Surpass Your Business Goals With Goal-Tracking Software for Salons and Spas
From increasing your client base to reaching a certain sales target, setting business goals gives your salon or spa a roadmap to grow the business. Meevo's goal-planning software for salons lets you set goals and have insight on your progress.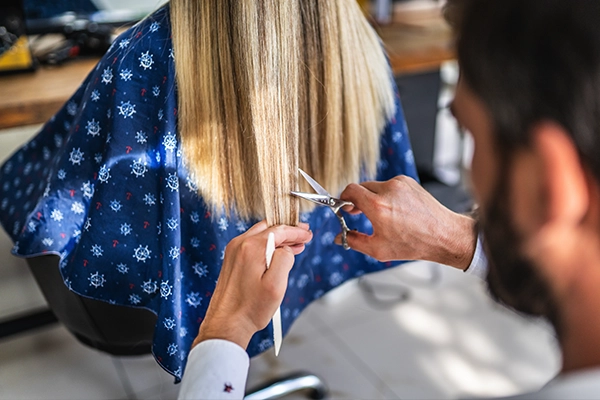 Business Goal Tracking for Salons
Meevo's goal-tracking features enable you to set goals in a variety of categories and keep track of your progress. You can set long-term goals for your salon or let your team set individual objectives.
Meevo helps you set and assign monthly goals (calculating down to the week or even the day) for your entire business. Our intelligent software automatically calculates your data, displays target ranges and lets you compare results from the previous year. You can also identify where your team is crushing their numbers and where there is room for improvement.
Employee Goal Dashboard
Don't wait for annual reviews to let your team know how they're performing. Employees have constant access to their Goals Dashboard to track individual and inter-departmental achievements. Using the dashboard, stylists and service professionals can see how many of their clients rebook and the value of their average ticket. They can set specific goals, such as a 75% rebook rate or an average ticket of $100 and track their progress with charts and graphs.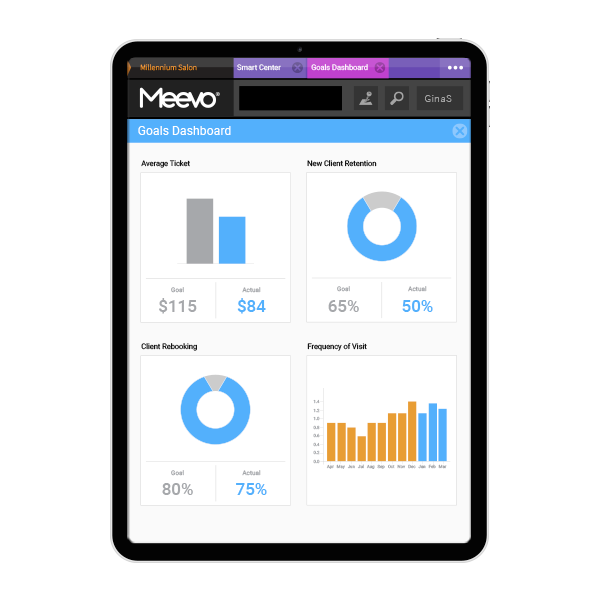 Define Business Goals
Meevo lets you set overall business goals, including new clients per month, frequency of visits, target retail sales, request rates, and more. Improve operations, productivity, and efficiency, all while optimizing your workforce.
Create Department Goals
Get your service professionals and stylists working toward a common goal by setting specific objectives for each department. You can use the software's key performance indicator reporting to see how the data measures up against last year's and which departments are proving themselves most successful.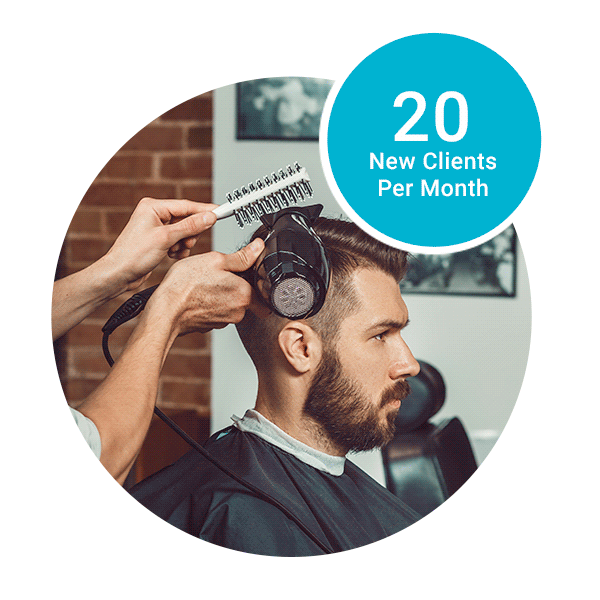 Discover Your Top Performers
Break the numbers down even further by setting individual staff member goals in various categories, like frequency of visits, retail sales, five-star ratings, request rates, etc. You can also compare employee actuals with their departmental goals to pinpoint who's adding the most value to your business.
Why Use Business Goal Tracking for Salons?
Setting business goals helps to keep your salon or spa moving forward. Using goal-tracking software allows you to see if you're progressing toward your goals or need to make adjustments. Thanks to goal tracking, you can make important decisions more easily:
Change your marketing strategy
Knowing what's driving your bookings may inspire you to readjust your marketing strategy. When you track guest requests, you can see what channels clients are coming from and decide to focus your marketing efforts on those areas.
Adjust business hours
If sales are up, you're getting new clients, and your stylists and service professionals are booked and productive, adjusting your business hours to accommodate demand may be needed. If there's less demand, you may reduce your business hours to conserve resources.
DETERMINE WHO TO PROMOTE
When your staff members track their goals, you get valuable data you can use to make decisions about staffing and promotions. Your most in-demand junior stylist may need to be bumped up to stylist, or you might want to promote your most popular stylist to senior stylist based on the reviews they've gotten from clients or their rebooking rate.
Decide to open a new location
Keeping track of your monthly sales and client bookings enables you to make decisions about your spa's growth and future. If business is steadily growing at your current location and your current staff finds it challenging to keep up with demand, opening a new location may be a strategy to consider.
How to Choose Short or Long-Term Goals for a Hair Salon or Spa
With Meevo, you can set and track long-term business goals, such as increasing sales by 25% over 12 months, or short-term goals, like raising rebookings by 5% in a month.
Often, the best strategy is to set a combination of short- and long-term goals. Short-term goals let you see your progress almost immediately, while long-term goals give you and your team something to work toward over an extended period. Meevo can help you track them all.