Spa and Salon Inventory Management Software
Tracking and ordering inventory just became a breeze. From managing data, defining stock levels and ordering products, Meevo's inventory management software easily and efficiently takes on every inventory task for you and keeps things on track. It simply makes your job easier.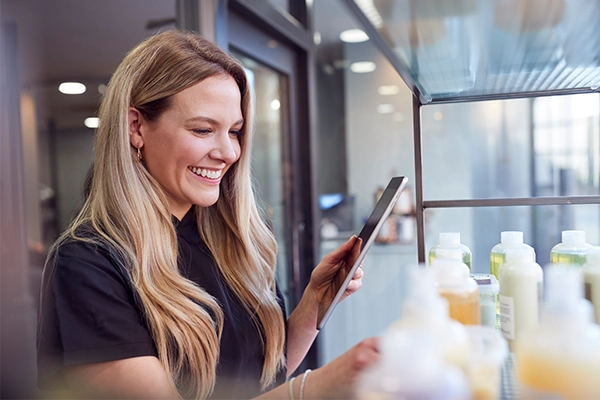 Why Salon and Spa Inventory Management is Important
Your clients count on you to have their favorite beauty and wellness products in stock when they visit for their appointments. Your stylists need you to stay on top of products used in-house so they can provide the services their clients want. You also need to ensure that the quantities you order align with how much of each product you use or sell.
Fortunately, the days of manually keeping track of your salon and spa inventory are gone. Salon inventory management software lets you know how much of each product you have on hand and where it is. Your salon inventory management system also helps you determine when to order products so you never run out or have too many.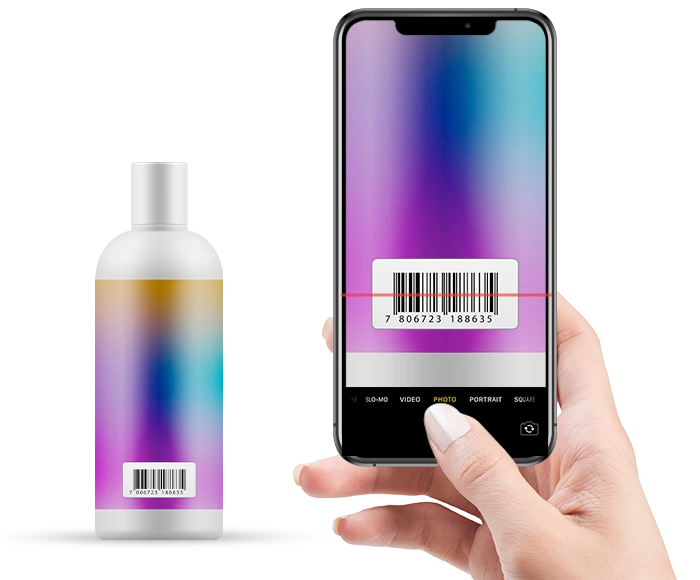 Mobile Management
Meevo's mobile capabilities let you walk around your business with a mobile device, take barcode photos and enter product information from wherever you're standing. Real-time inventory updates increase productivity and decrease errors.
Smart Product Recognition
Save time on data entry. With Meevo, you only need to document multiple-size products once by filing all their variants on the same screen.
Designate Floor Locations
Know where products are at all times, whether they're on the floor, the selling rack, or in the back. Stay organized and easily track where retail is physically located around your business by assigning individual Floor Locations within Meevo.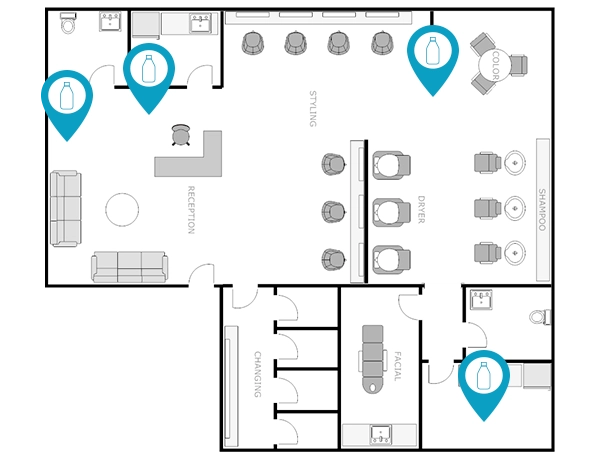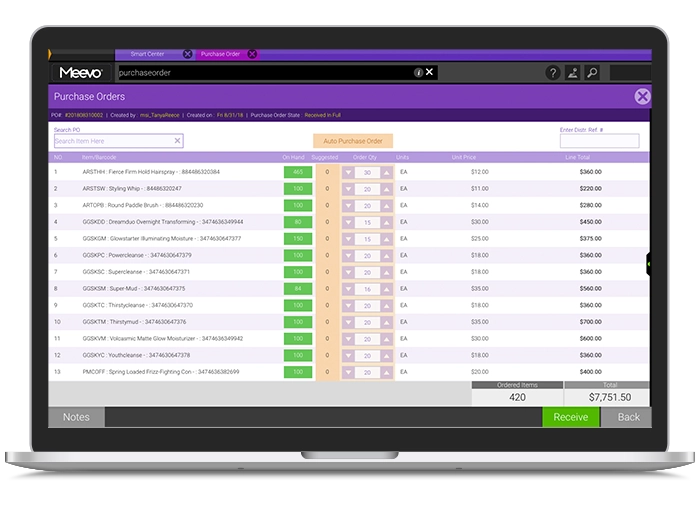 Automatic Purchase Orders
Before you run out of a product, Meevo will beat you to the punch and help build automatic purchase orders. Our software will already know the quantities you need, based on stock levels, saving you the time it would take to check manually.
Multi-Location Inventory
Control your business's inventory on a high level by consolidating inventory in one place. Meevo lets you enter all products for multiple locations via Central Office, instead of separately for each location. Now you can easily oversee data for all your salons or spas in one central location.
Benefits of Salon and Spa Inventory Management Software
You need to keep track of your inventory to keep your staff and clients happy. Managing inventory also helps your spa's bottom line. When you start using Meevo's inventory management system, you'll see the following benefits:
Never Be Out of Stock
No one wants to visit their salon or spa only to find out their favorite products are out of stock. Keeping tabs on your inventory levels means you can reorder products before you sell the last one, keeping your staff and clients happy.
Improved Order Process
Meevo automates the reordering process for you. Since the software knows how much of a product your salon needs and how quickly you sell or use it, the platform can set up an order for you—just in time for the right amount.
Better Time Management
Meevo's inventory management software streamlines the tracking and ordering process. Our mobile capabilities mean your staff can spend less time logging new products and more time helping their clients.
Reduced Shrinkage
Salon and spa products must be used or sold within a particular timeframe before they expire. Inventory management software keeps you from over-ordering, ensuring you'll sell a product before new stock arrives. Meevo's location feature also makes it easy to keep track of where each product is, so nothing gets forgotten on the shelf or in the back.
Better Client Experience
Keeping accurate track of your inventory levels enables your staff to provide a better experience to clients. They can recommend products and upsell without suggesting an item that may be sold out. Providing your clients with products that help them look and feel great also increases their loyalty to your salon or spa.
Increased Profitability
Missing or expired products hurt your salon's bottom line. Selling or using what you have before it expires and keeping track of where everything is across your locations means less wasted product. The more products you sell, the higher your spa's profitability.
Schedule a Meevo Demo
See for yourself why 100,000s of salon and spa leaders like you have fallen in love with Meevo. Schedule a free personalized consultation.