Meevo POS System: The Register That Does It All
Streamline the checkout process at your salon or spa with Meevo, the comprehensive salon point of sale (POS) system. With Meevo, you can provide clients pampering and tranquility from the minute they step in the door til the time they leave. Our POS system for hair salons includes features designed to maximize the client experience.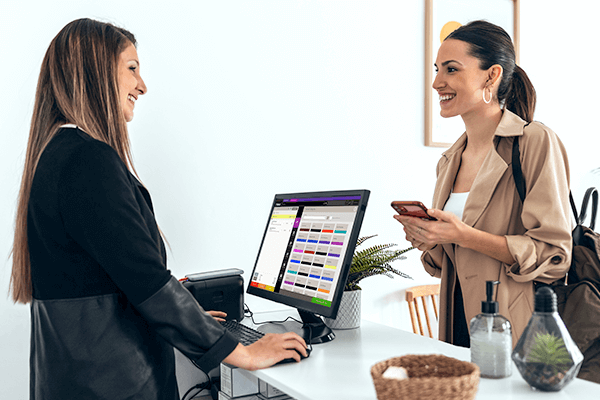 POS for Today's Salon and Spa
Meevo is a cloud-based POS system for spas and hair salons. It allows you to apply discounts, redeem packages, memberships or gift cards, and call up client history—all with only a few clicks. The spa POS software is mobile-friendly and enhances the client experience by being easy to use and flexible. Read on to learn more about Meevo's POS System features and how it can support your salon or spa.
Chair-Side Payment Solutions
After a refreshing IV drip or rejuvenating facial, your clients want the opportunity to continue to relax. Instead of rushing them up to the front desk or into a line at reception, give them the option to pay chairside. Meevo's mobile checkout feature lets you complete the payment process from a touchscreen device while your clients relax in the treatment room or their chair.
Mobile checkout improves the client experience while allowing your spa or salon to operate more efficiently. The front desk remains free to greet incoming clients and answer phone calls.
In addition to chairside payment options, Meevo enables your clients to pay with their mobile devices. Once they've received their services, you can text or email your clients a link to the self-pay screen. They can review the transaction details, add a tip, and process their payment easily and efficiently.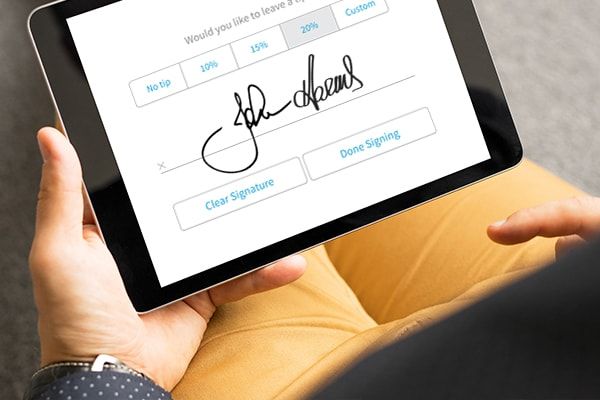 Flexible Receipt Options
Along with giving your clients the option to pay chairside or on their own mobile device, Meevo lets them choose how to receive their receipts. Clients can select printed or emailed receipts or both. If a client purchases a package for someone else, they can select a gift receipt.
If your salon or spa wants to go green, you can choose a paperless option so clients always get an emailed copy of their receipt or no receipt at all.
Personalized Product Recommendations
Meevo makes upselling products easy. The software has a great memory—it keeps track of the products a client has previously purchased. It then lets you know when they're due to buy more for an easy sales boost at checkout.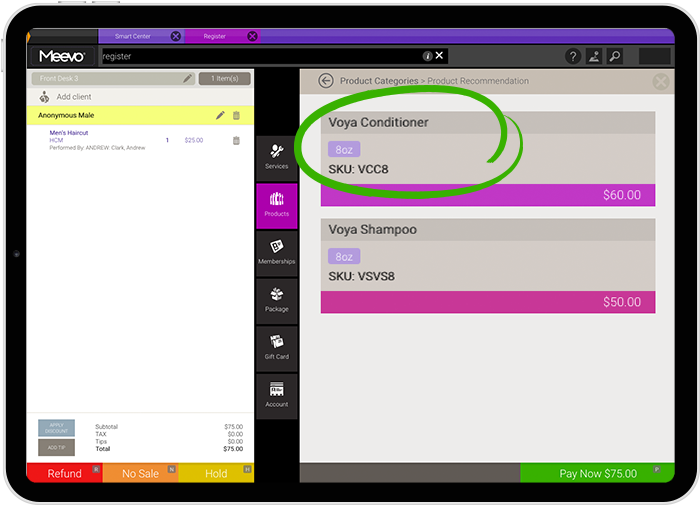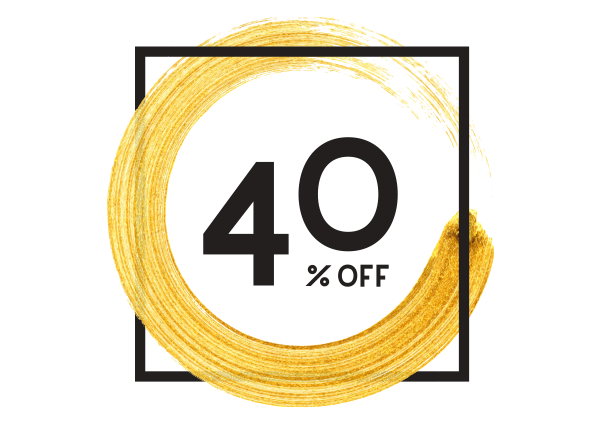 Streamline Discounts
Who doesn't love a good deal? Meevo's POS system can automatically apply discounts at checkout. Meevo can also support manual entry of discount codes or buy-one-get-one promotions. With manual discounts, your salon employees can still receive a commission on the full price of the service if you'd like.
Safely Stored Payment Methods
Meevo keeps your business PCI-compliant so your clients' data is always secure and private. The POS stores clients' preferred payment methods, so they don't have to search for their credit cards at the end of service. Our Meevo POS system also makes it easy for you to offer memberships and automate future payments.