Custom Dashboards for Spas and Salons
Meevo's Smart Center is a completely customizable dashboard hub within the software. Design your Smart Centers to fit your creative style and easily access real-time data that's specific to each role at your business. Now, you can see everything important to your salon or spa in one place.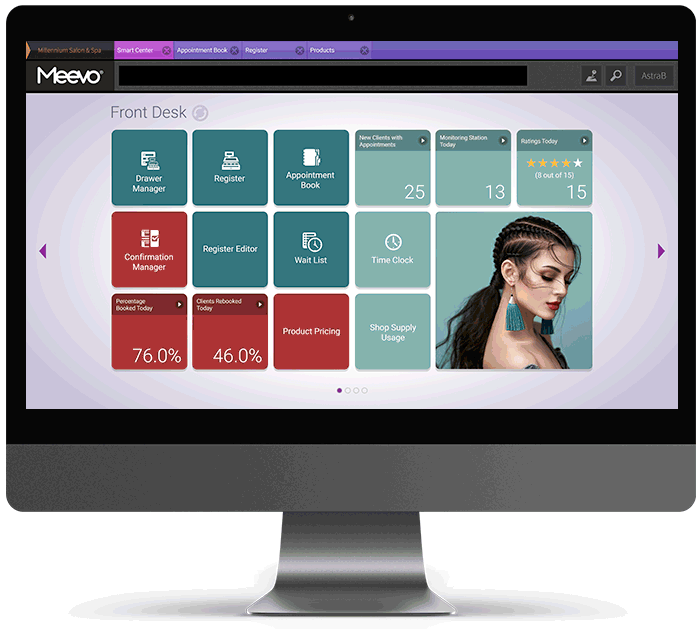 Meevo Custom Dashboard Features
You went out of your way to make your salon unique, including a customized interior and branded products. Why stop there? Creating a custom dashboard lets you put a personal touch on the platform you use to book appointments, schedule service providers, and accept payments.
Smart Centers do more than let you put your own stamp on your software platform. They also help you keep on top of stats and key performance indicators (KPIs) so you can see at a glance how your team and business are performing.
One Screen, Your Way
Organize your Smart Center with everything important to YOU on one screen. Choose from tons of smart tiles to keep you informed, then get personal with gorgeous layouts and colors so your home base feels like YOU.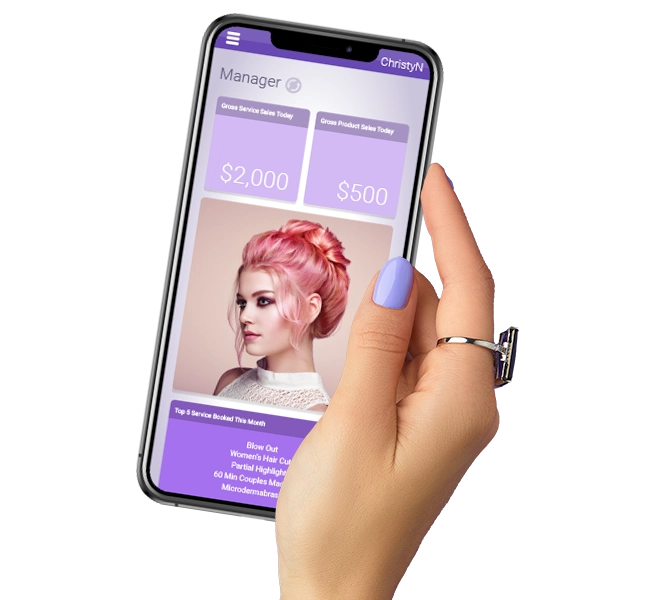 Custom Employee Dashboards
Not all Smart Centers look alike—and that's the idea! Create role-based dashboards for managers, service providers, front desk staff, and salon owners. Customize employee dashboards to display helpful info tailored to their job profiles, so they know their goals, appointments, results and productivity all at a glance.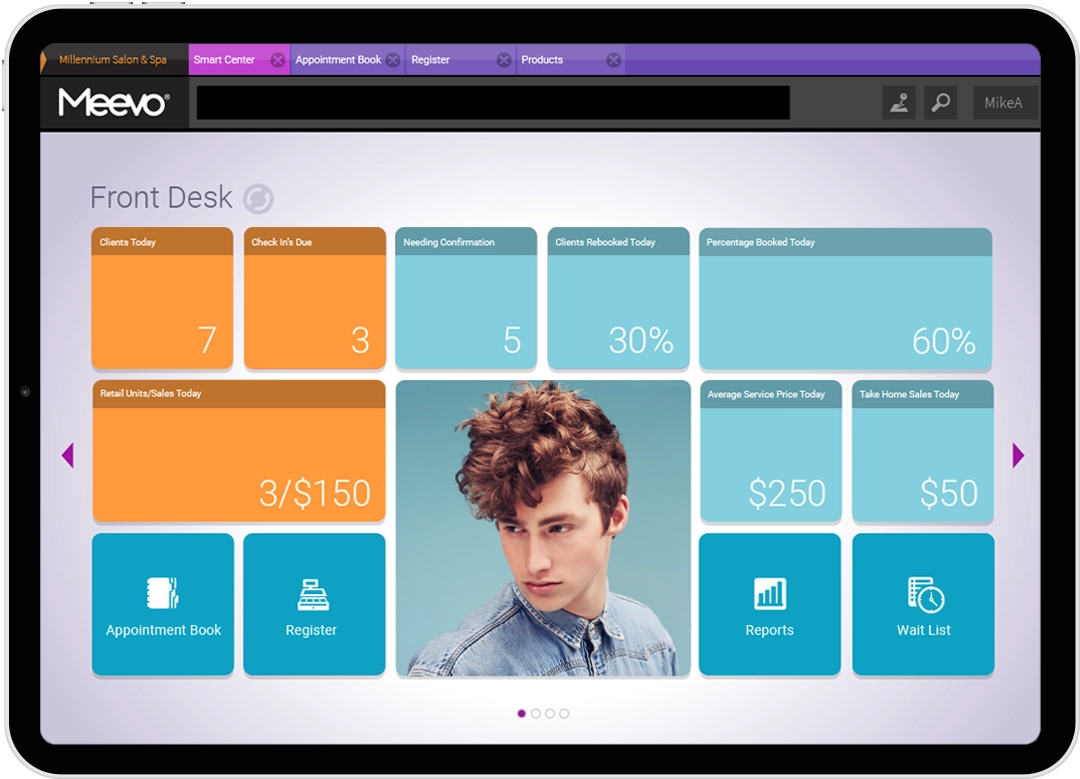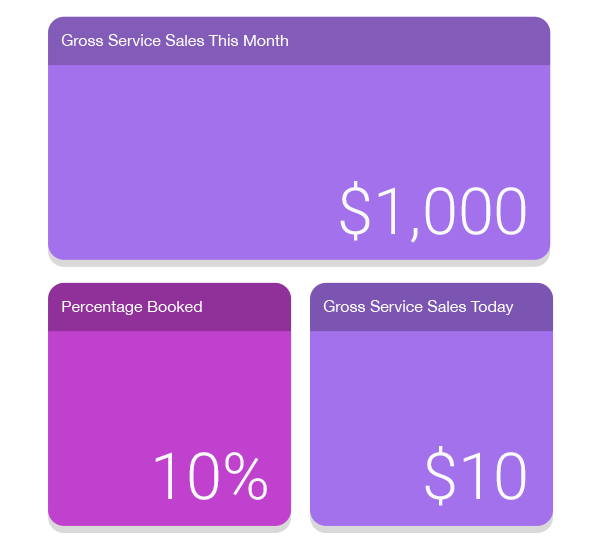 Live Metrics And Data
Salon and spa owners and managers have enough to do without searching for the data they need. Smart Center tiles display the real-time data and live metrics determined by you. It's the simplest and most effective way to stay on top of KPIs and employee stats.
Reports for Multiple Locations
Don't waste time running separate data reports for each of your locations. Owners and managers of multiple salons or spas can keep track of business as a whole with Smart Center aggregated data tiles.
Benefits of a Custom Spa and Salon Dashboard
Meevo's Smart Center has a lot to offer your salon or spa. The benefits of using our custom salon and spa software dashboard include:
Make Informed Decisions
A custom dashboard helps you make decisions about your salon or spa business's future. Based on the KPIs you track, you can see whether expanding or opening a new location makes sense. You can also review stylist stats to determine who to promote.
Spot Issues Quickly
Similarly, your custom dashboard gives you all the data you need to spot potential problems, such as a high rate of canceled appointments or client turnover. With that data in hand, you can make choices to protect the future of your company or correct issues while they're still small.
Keep Track of Goals
You get to decide which details appear on the dashboard, making it easy for you and your staff to set goals and track their progress toward them. There's no need to search for the stats you need when they're all right on the front page.
View Data Relevant to You
Put the KPIs you're most interested in front and center on your dashboard. Since you can customize the Smart Center by role, you can ensure that your employees get more pertinent data, such as the number of scheduled appointments and gross monthly or daily sales for service providers. Managers can easily see inventory levels and start reorders, while your front desk team can see check-ins and waitlist details at their fingertips.
Save Time
Give your staff the information they need the minute they log into the system. By providing tailored details on the front page, you help your team be more productive, saving time and improving your salon's reputation. And, you control what information each employee sees, whether it's only their personal goals and KPIs or the company's.
Add Flair
You can customize more than stats and information on Meevo's Smart Center. Choose colors that align with your salon's branding and pick a layout that matches your spa's aesthetic and style.
Schedule a Meevo Demo
See for yourself why 100,000s of salon and spa leaders like you have fallen in love with Meevo. Schedule a free personalized consultation.