When a guest leaves your salon or spa, what will they remember? What parts of their experience will make them think of you when it's time to book again? Creating a strong customer retention strategy is crucial to your business's success and if you're not sure where to begin, these best practices are just the guide you need.
Here are 4 customer retention tips from salon software Meevo, and salon equipment providers Minerva Beauty:
1. Simplify Client Communication
Offer online booking

Whether you're securing their next appointment from the chair, or a client just remembered they're due for a root touch-up while in line at Starbucks, Meevo salon software's Online Booking is the fastest and easiest way for both you and your clients.

Set up automated confirmations

Who knew customer retention starts before your guest even arrives for their service! Guests (and front desk staff) love the ease of text notifications for appointment confirmations and Meevo helps you automate those communications, so you have one less thing to worry about.

Let clients check themselves in

Displaying Meevo's Walk-In Kiosk on a touch-screen device allows clients to effortlessly check themselves in, see current promotional offers, and add themselves to the waitlist if needed.

Use Mobile Check Out

Meevo's Self-Pay feature lets clients pay for their services securely and safely from their own mobile device when it's time to check out. Your staff can also use their tablet or mobile phone to create a chairside check out for clients, add services and products, book future appointments, and save preferences for a guest right from their chair or treatment room!
2. Create A Comfortable Environment
Welcoming Reception Area

Don't underestimate the impact your atmosphere has on customer retention. Make a lasting first impression the moment your guest walks through the doors of your salon or spa by creating an inviting reception area. Greet them with a warm welcome as they approach your stylish reception desk and offer complimentary refreshments before their salon or spa service begins. Ensure your reception area is clean and comfortable and your retail is displayed in an eye-catching way for clients to browse while they wait.
From cozy reception seating to functional and stylish retail displays, Minerva Beauty offers a wide selection of retail and reception equipment to help create the ideal waiting area for your business.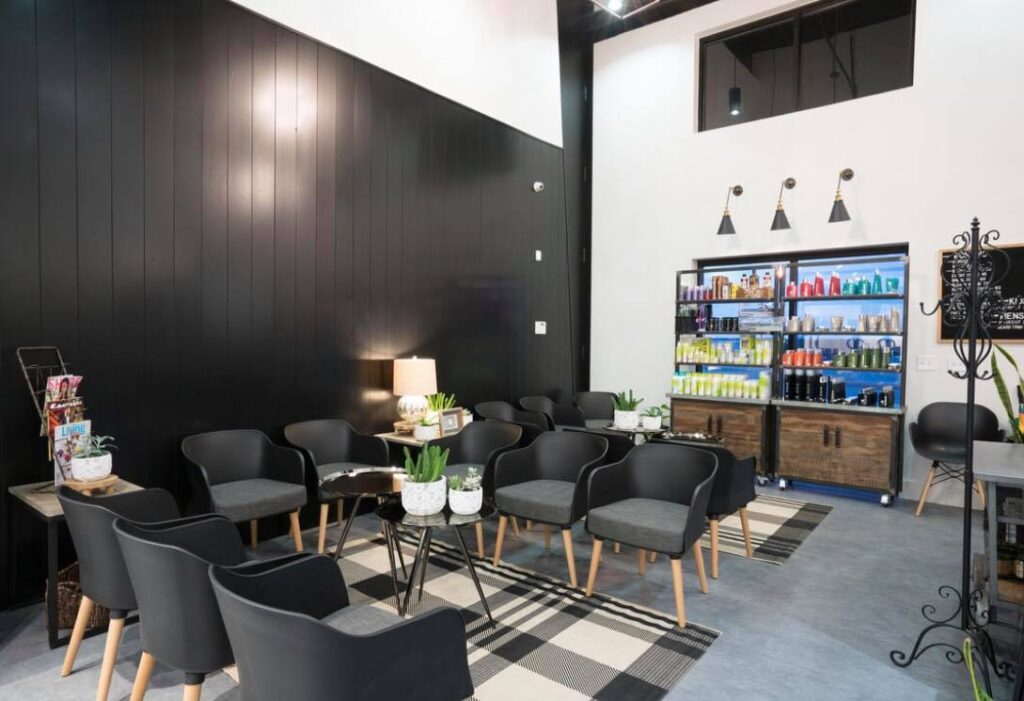 Cohesive Design, Layout and Aesthetic

The interior design of your salon or spa serves as the visual representation of your company and heavily impacts customer retention. When it comes to the look and decor of your space, hone-in on an aesthetic that reflects your business's style and the services you provide. It's also important to create a cohesive layout for your salon and spa equipment. Good feng shui provides a harmonious environment for both your clients and your staff.
Salon equipment provider, Minerva Beauty, offers many useful tools including a 2D space planner, style guide, and more interior design inspiration to help you create a comfortable environment that draws clients in and keeps them coming back.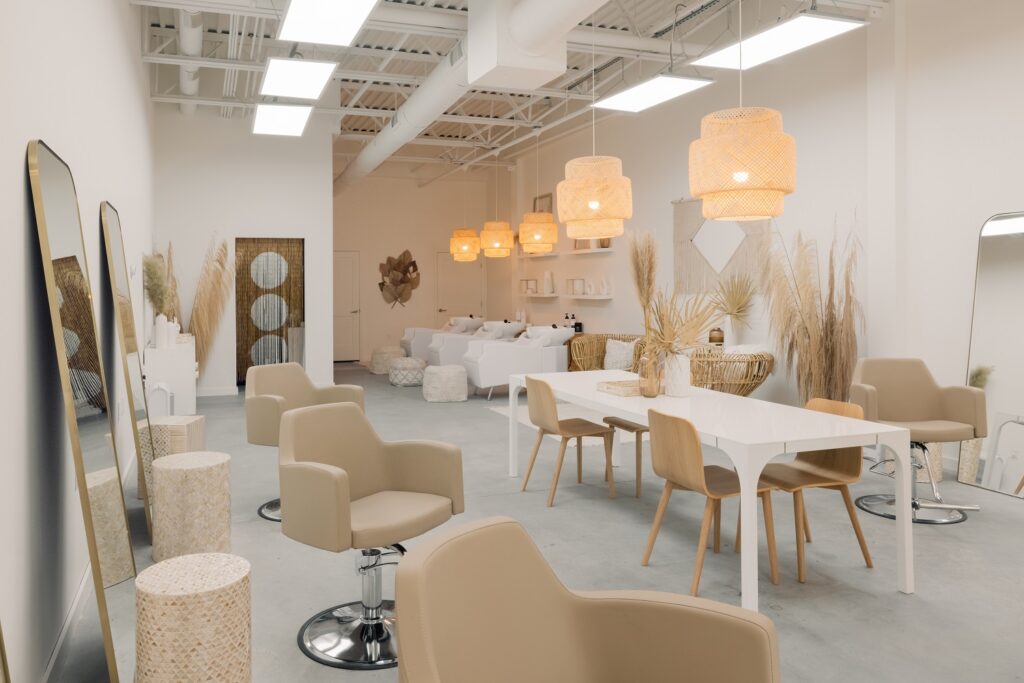 Perfect Lighting

Lighting is another crucial aspect of customer retention because it influences the ambiance of the environment, which directly affects the client's mood. Allow sunlight to flow throughout your space and create a warming environment, whether it be through large windows or propped open doors. If access to natural light is limited, rely on ambient, energy-efficient lighting options instead.
From LED salon mirrors with color correct lighting to energy-saving floor and task lamps, Minerva Beauty offers a wide selection of salon and spa lighting options that not only create a comfortable environment for your clients, but also provide ample lighting that salon and spa professionals can depend on.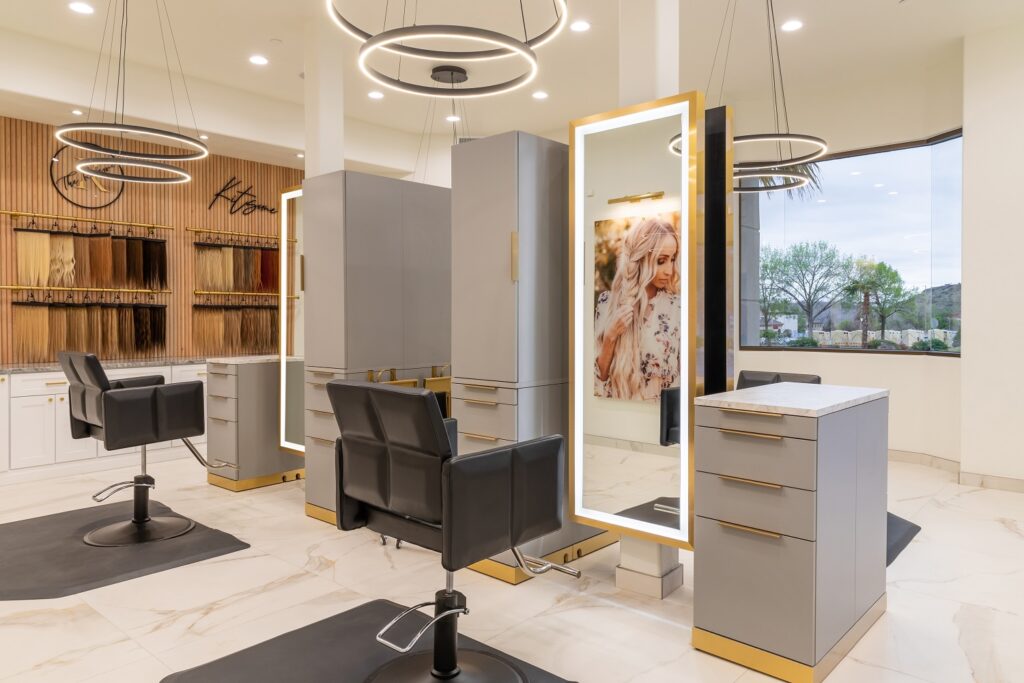 Comfortable, Functional, and Stylish Equipment

To create a relaxing environment, you need to outfit your space with salon and spa equipment that is stylish, comfortable, and functional. As the trusted salon and spa equipment provider for over 175,000 businesses worldwide, Minerva Beauty provides quality furnishings at an attainable price with exceptional service, efficiency, and selection.
With professional-grade equipment available in a variety of styles, designs, and color options, Minerva has the selection to suit any salon or spa aesthetic. Browse salon seating, styling stations, shampoo systems, massage tables, pedicure chairs, manicure tables, and more at Minerva Beauty.
3. Show Your Customer Appreciation
Don't Skip Follow-Up Emails

Use Meevo spa and salon software to automate your email campaigns and send guests after-visit messages that show your appreciation. Customer retention continues even after the service has been provided!
Send emails thanking your guests for their visit or asking if they'd like to rebook their next service. Customer appreciation should never go overlooked.
Follow-up emails are also a great opportunity to ask guests to leave a review on your business listing. The more reviews you have, the better reputation you have online, which in turns leads to more potential clients.
4. Provide Value They Can't Resist
Offer Fun Promotions They'll Want to Redeem

Promotions that are random pop-ups or celebrate a holiday always keep the energy fun and inviting. Offer a complimentary gift when they pre-book their next appointment or consider an enticing BOGO special they can't resist.
Take advantage of Meevo salon software's social media tool to announce a sale or limited time offer. You can even schedule your posts in advance, so your promotions are on autopilot!
Whether they're browsing or booking, make sure you're building out the ultimate experience for your customers during every visit. Repeat customer retention business provides an astounding 80% of revenue for spas and salons, so always give them a reason to come back!