As social media becomes more saturated with branded messaging, businesses must adopt new strategies to break through the noise. Keeping a finger on the pulse of the latest trends can help your salon or medical spa leverage its online presence to stand out from the competition and ultimately increase revenue.
Knowing which platforms will be most beneficial and learning ways to optimize your social media accounts will help your business step into the future.
We are breaking down a few salon and medical spa social media marketing trends to engage your followers and find continued growth. We are also exploring how utilizing automation can streamline the management of your social accounts.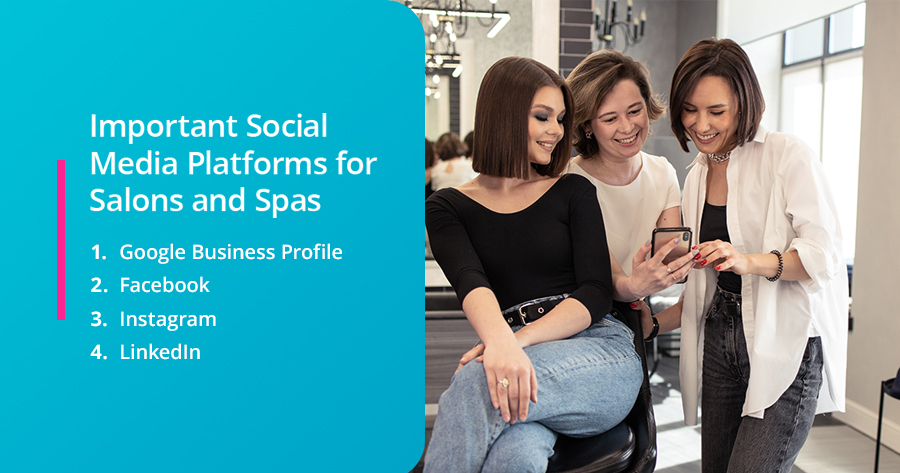 Important Social Media Platforms for Salons and Spas
Rather than trying to manage accounts on every popular social media platform, businesses should focus on maximizing their presence on a few key social channels. The following are key platforms for salons and med spas to use to their advantage:
1. Google Business Profile
Formerly called Google My Business, Google Business Profile is an incredible free tool for helping small business owners increase search engine visibility, especially for local queries. Your salon or med spa can connect with customers by sharing the following information on your profile:
Locations and directions
Business website links
Phone numbers
Services
Working hours
Updates
Reviews
Photos
A Google Business Profile is a must for med spas and salons because 76% of people who conduct a local search on their mobile phone visit a business within 24 hours. When someone searches for the products or services you provide, you want your business to be prominent on search engine results, and having a Google Business Profile is one way to ensure you are easily discoverable.
2. Facebook
Facebook can be an amazing tool for spas and salons. The Meta Business Suite enables you to create a business page to share essential information with your clients, such as working hours and staffing updates. You can also share posts and images of your work to give potential customers a better idea of your operations.
Your business can use Facebook's group tool to harness a stronger connection with your client community and share more intimate information about your spa or salon. Facebook is also incredible for running inexpensive and effective targeted ads.
3. Instagram
Med spas and salons can benefit from having an Instagram account where they share photos and video content promoting products and services. Since it is a highly visual platform, Instagram is perfect for showcasing images of your best work.
You can leverage your account's bio to highlight your brand ethos and share business information like your location and a direct link to your website where clients can book appointments. As part of the Meta Business Suite, Instagram also enables businesses to run highly targeted ads and sell products directly on the app.
4. LinkedIn
Another social media platform to utilize as a salon or spa owner is LinkedIn. While the other channels in this list are intended for marketing to your business's potential clients, LinkedIn is a handy tool for reaching a professional audience and connecting with the best talent. Managing your account on this platform will help you enhance credibility and increase exposure among potential hires.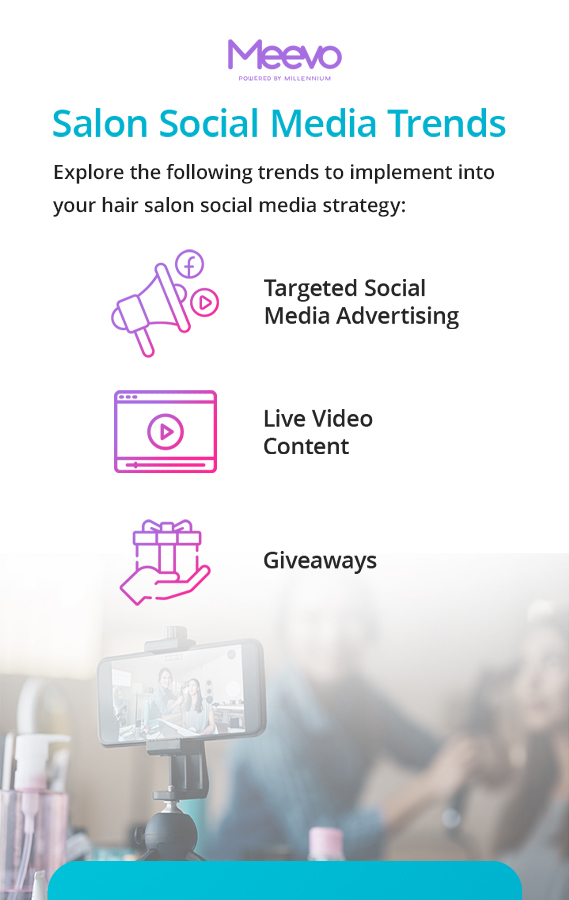 3 Salon Social Media Trends
Explore the following trends to implement into your hair salon social media strategy:
1. Targeted Social Media Advertising
Today's salon social media marketing is most effective when businesses use personalized and targeted ads. No longer will one ad work for your entire audience. Nowadays, customers have different standards and want tailored discounts and offers that are unique to their wants and needs. As a result, spas and salons must take measures to boost their targeted advertising efforts. Almost all platforms enable you to filter your audience based on criteria.
Personalization tools extend from basic geographic targeting to highly advanced filters, which create specific segments by lifestyle, income, interests, etc.
Some platforms, such as Facebook, even enable you to upload a list of email addresses to ensure you are targeting the right customers.
2. Live Video Content
"Going live" has been a social media trend for a few years, but the authenticity and vulnerability of live video help businesses capture audiences who are skeptical of sales pitches and manipulation.
Live video content enables you to engage with your clients and humanize your business's social media presence. The following platforms have live features:
Facebook
Instagram
LinkedIn
You can showcase your team in action and respond to view questions and comments in real time.
3. Giveaways
If your business is looking for salon social media ideas, consider the benefits of hosting a giveaway. People love freebies, so they can be a great tool to gain exposure and attract new clients.
A simple way to host a social media giveaway is to have your followers share one of your posts or use a hashtag from your business on their account to enter the contest. You can then choose winners who will receive your prizes, such as a free service or product.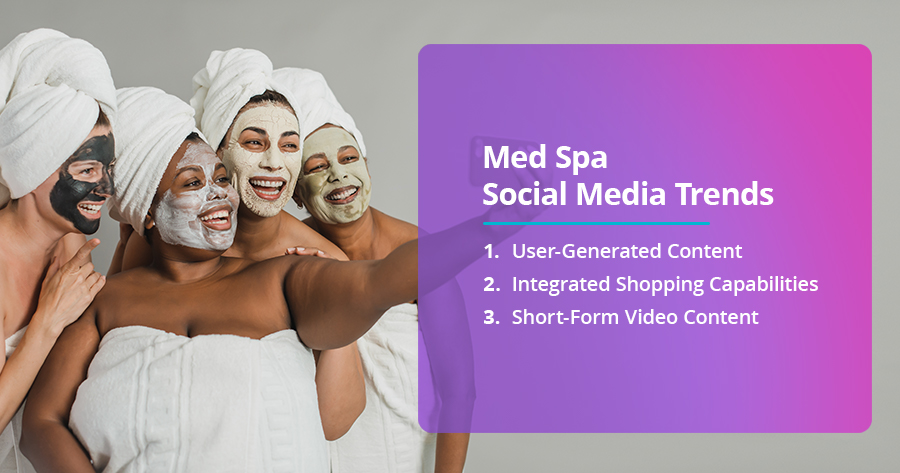 3 Med Spa Social Media Trends
The following are top med spa social media marketing trends that will help your business engage with your clients:
1. User-Generated Content
User-generated content (UGC) is gaining popularity in a major way. Today's social media users are incredibly savvy and hyper-aware of marketed content, so they tend to put more trust in people rather than businesses. When one of your clients creates a post about how much they love your services, it can be more influential and meaningful to viewers than the content you create and share from your business account.
Highlighting UGC is one of the best ways to amplify your med spa on social media.
2. Integrated Shopping Capabilities
The surge of consumers finding products and purchasing through social media is continuing to boom. If your business offers e-commerce, consider implementing it into your social media strategy to optimize sales. Facebook and Instagram make it easy to create an online shop and sell products from your account directly on their platforms.
3. Short-Form Video Content
Your med spa can use short-form video content to your advantage. On average, a person's attention span lasts only 47 seconds, and short, engaging videos are an excellent way to connect with viewers. Instagram Reels are a terrific tool for sharing quick clips that will garner more attention than static photos.
Some video content ideas to consider include:
Busting myths about your services.
Answering frequently asked questions.
Sharing before and after clips of your services.
Automating and Planning Your Social Media
When it comes to social media marketing for salons and med spas, automation and planning tools can play a key role in making your business's online presence a success.
Automation software makes it possible to do the following:
Create scheduled posts to go live at optimal times for the greatest engagement
Gather pertinent data and analytics for easy reporting
Perform basic customer service tasks
Explore some of the advantages of using automation for managing your spa or salon's social media:
Save valuable time: Automated posting and customer service saves your social media personnel time and energy that can go toward creating high-quality, impactful content instead.
Post consistently: Planning your posts in advance helps your business update its accounts consistently with minimal effort.
Greater access to data: Many automation tools offer users access to analytics that assists in optimizing posting schedules and gaining important insights about your followers.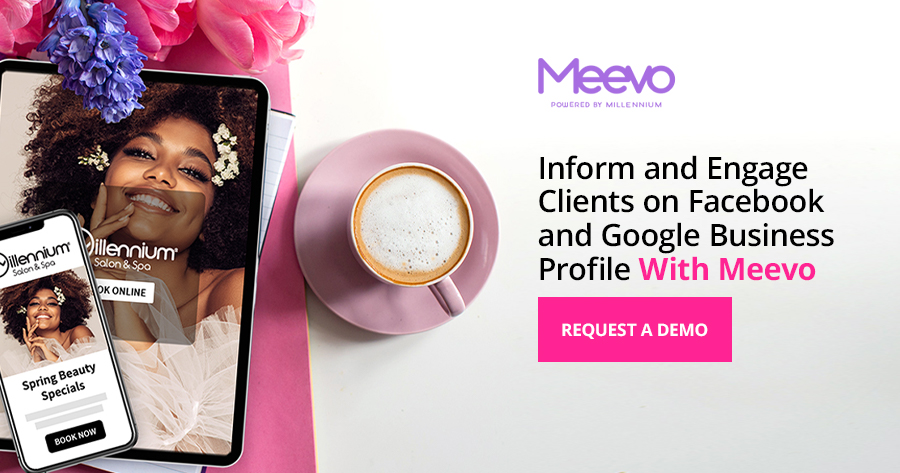 Inform and Engage Clients on Facebook and Google Business Profile With Meevo
Meevo can help your spa or salon optimize its use of social media with our online presence and search engine optimization solutions. We make updating your business's Facebook and Google Business Profile easy with automation tools for scheduling posts and enhancing engagement.
Are you ready to get started? Schedule a demo of the Meevo Marketing suite today!