Social media is EVER-CHANGING. It's nearly impossible to keep up with what's trending, what gets the most visibility, what to post, how to post, and when to post, all while running your business. Staying on top of your salon social media marketing can be a little overwhelming.
If you're stuck in a rut of doing the same old thing with your salon social media marketing strategy, and you're ready for your efforts to equal real results, then it's time for a refresh. Since we don't want to add more to your to-do list, we've done some leg work for you.
We've rounded up our top 10 must-know social media dos & don'ts to help you attract clients, boost brand awareness and loyalty, and increase bookings. Let's see how a few tweaks to your social media strategy can transform your results!
Your Guide to Social Media Marketing
Salon Social Media Marketing Best Practices
Social Media Marketing Dos & Don'ts
1. Do: Choose the Right Platform(s)
Choosing the right platforms for your salon social media marketing is all about understanding your goals, who your ideal client is, and where they spend their time. Don't overwhelm yourself by getting on every hot-ticket social media platform out there, just focus on a few that are most relevant to your clientele.
We recommend starting with Facebook (yep, still the most popular platform) and Instagram (especially for salons). Other platforms to consider are Twitter (good for conversation starters and sharing others' content), Pinterest (good for sharing inspiration and trends), LinkedIn (connecting with other professionals), YouTube (sharing educational content like video tutorials and step-by-step how to's), and TikTok (sharing short-form video reels about current trends and really anything and everything that's entertaining).
Keep in mind that TikTok is most popular amongst the under-24 folks so be cognizant of your unique customer base and the best places to connect with them.
2. Do: Post Meaningful and Relevant Content
Not only should all your posts match the tone and image of your brand, they should also be relevant to your target audience. If your ideal client is young and hip, your content should reflect that. For maximum engagement, post more than just services, products, or monthly discounts. You can share inspiring quotes, how-to videos, or the benefits of relaxation and down time. Anything that adds value for your viewers.
3. Do: Add a 'Book Now' Button
Engagement is great, but what you really want from your salon social media marketing efforts is more clients and more bookings. You can't do this without an easy way for followers to get to your online booking page. Add a 'Book Now' button to posts and have a booking button in your profile bio that links to your website's scheduling platform (crucial for Insta since you can't add links directly into posts). Always share a booking CTA, even verbally in videos, to capture bookings when followers are most engaged.
You can also add a Linktree in your bio to help drive more traffic to your website and specific pages you want to showcase like your latest blog post, an image gallery of your impressive work, an upcoming event, etc. Be sure to place your most important links (definitely your booking button) at the top of your Linktree so they're quickly and easily seen. And don't go link crazy! Too many could overwhelm your audience so try to keep it between 3-7 links.
4. Do: Share Ways to Save
Incentivise potential clients by offering a discount code for new followers or shares. Promote your salon and spa membership as a way to get their favorite services for less. Share limited-time offers, special perks, free gifts, or bonus loyalty points for referrals. Get creative with ways you can turn followers into clients with special offers.
5. Do: Use Videos or Go Live
You already know that images grab users' attention and outperform text alone. But did you know that video content is by far the most engaging? Plus, nearly all platforms let you "Go Live" (both Instagram and Facebook rank live videos the highest overall).
51% of people are more likely to share videos with friends and family over any other content type and over 71 % of livestream viewers have purchased something via social media. You don't have to share live videos all the time or exclusively post video content (in fact, you shouldn't), but try it out occasionally and keep an eye on the engagement results.
6. Don't: Forget to Share Your Amenities
Your business encompasses more than just services, it's also about your level of customer service. Maybe you offer special amenities like lattes, snacks and a cold plunge pool, or conveniences like easy online booking, chairside checkout, and/or a speedy self-check in process. These little bonuses go a long way when your busy followers want something extra with their services, so be sure to highlight your unique offerings.
7. Don't: Ignore Questions and Comments
Clients want to know you are communicative and that you care about the service and treatments they love. That's why the ability to track and respond to online comments in a timely manner is crucial for your reputation. Keep your tone grateful, helpful, and curious to show that you genuinely care about their experience and want to make amends if something wasn't up to par.
8. Don't: Neglect to Update Your Info
If you've moved locations, extended your hours, changed websites, or anything else related to how and when guests can find you, then you absolutely MUST update it on your social platforms. Online presence management can help you maintain accurate business information and make quick updates across all digital platforms so future and existing customers have the correct information they need.
A recent survey revealed that 63% of consumers said incorrect listing information would stop them from choosing that business. Those little errors could cost you clients and significantly impact your profit potential.
9. Don't: Leave Out Relevant Hashtags
Use trending hashtags to draw more users and expand your reach. Don't use only broad hashtags like #salon or #spa–add in specific ones like #springtime, #selfcare, #metime and also incorporate niche hashtags that are relevant to your business, your service offerings, or the products you use like #aveda, #olaplex, #balayage, #bluntbob, #austinsalon, etc. Go to the search bar and add in the hashtag you have in mind to see how many other posts are currently using it.
10. Don't: Overlook Local Clients
New followers halfway across the world are nice. But you also want to motivate clients in your vicinity to patronize your business so be sure to tag your own town, city, or county in posts. Shout out local long-time clients and thank them for their loyalty. Participate in local events and post about them on your social sites to show your community involvement.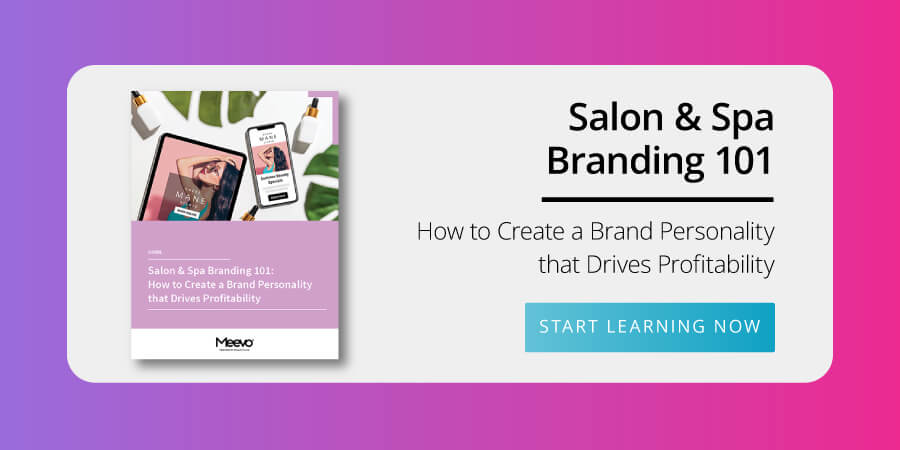 Salon Social Media Marketing Best Practices
It's hard to capture your viewer's attention and it's even harder to keep it. Whether your content is about your latest services and products, a monthly promotion, or a Facebook contest, keep it short and easy-to-read.
Strategy won't do much good if you don't know who you're trying to attract. Take time to identify your ideal client, review your brand personality, and assess your client experience to make sure everything is lining up. Then, you can better understand where clients are spending their time and the type of content they're engaging with.
It'll be hard for your social channels to make much of an impact for your salon business if your posts are sporadic. Best practice is to post regularly with a consistent brand voice and image aesthetic. It's ok to try new things and see how they land, just be sure to track your salon social media analytics so you can see what's performing best and what's falling flat.
Salon social media marketing is not meant to be boring! Try not to go against your branding, but also don't be afraid to let loose and show some personality amidst your product and service-related posts that might need a little extra spark to help boost engagement.
Social media is an excellent chance to learn more about your clients and followers: what they like, what they're interested in, and what they do in their spare time. You can even learn about other businesses or organizations they're involved with. All of this info will be extremely useful in crafting your posts and the customer experience you offer.
You're on Your Way to Mastering Your Salon Social Media Marketing!
We hope these salon social media marketing tips give you more confidence in your efforts, help grow your brand awareness, and connect you with more wonderful clients! If you're in the mood to keep reading and learning, check out our popular guide on How to Create a Brand Personality That Drives Profitability.