Efficient Contactless Salon and Spa Check-in and Check-Out
Meevo salon software with contactless features creates a smooth, streamlined experience for your clients and team members. Guests can check-in for their appointment, pay for services, book an appointment, and more using their mobile device.
Contactless Salon Software Features From Meevo
Meevo mobile spa software has several features that enable you to create a contactless experience in your salon or spa. With contactless spa software, you can create a better, more efficient client experience, leading to more bookings and higher client retention rates.
Online Booking Features
Let your customers book services online from their home and prompt them for credit card and email information, allowing for a chairside check out later. Clients will also receive an automated booking confirmation via email or text.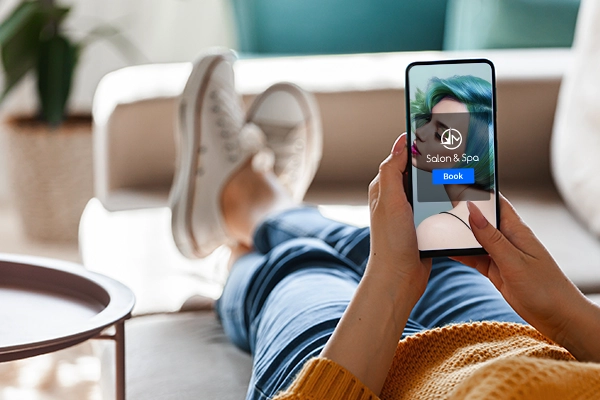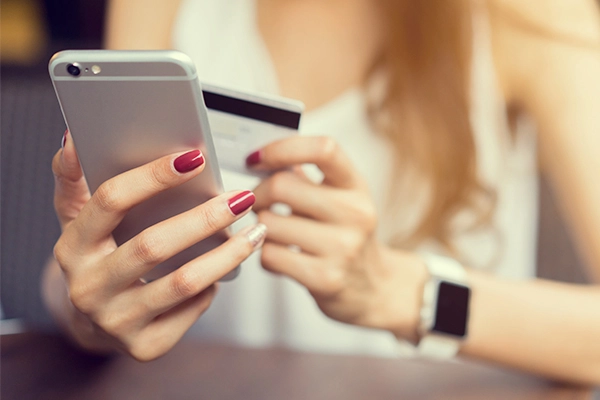 Appointment Deposits and Prepay
Upgrade your Online Booking experience by enabling clients to prepay for services, speeding up the in-studio checkout process and enhancing the contactless experience. You can also ask for appointment deposits during Online Booking to avoid lost revenue from late cancellations and no-shows.
Mobile Check-In
Avoid having multiple customers and employees in the front of your salon or spa with a contactless check-in process. Clients can digitally complete documents and forms prior to their visit and use the geo check-in feature to automatically notify your staff upon their arrival. Staff can then text their clients when it's time to come into your salon or spa, keeping wait areas open and minimizing guest interactions prior to appointments.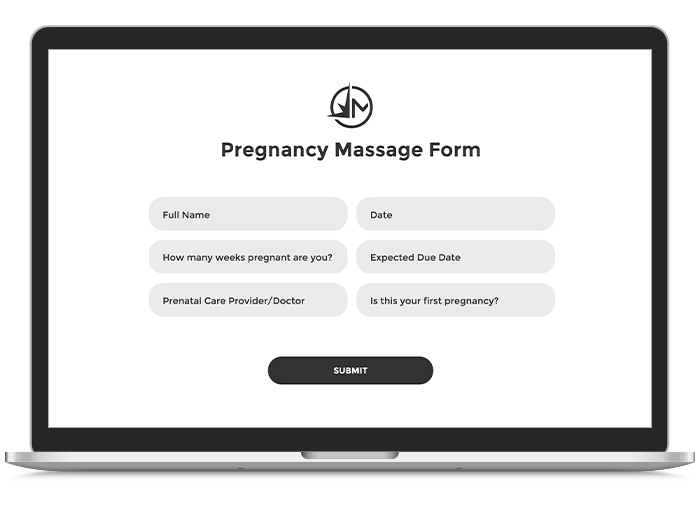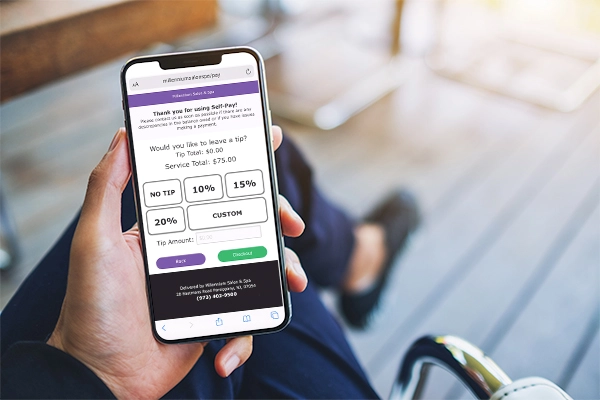 Mobile Payment Solutions
Our contactless payment solution, Meevo Self-Pay, lets your clients pay for their services securely and safely from their own mobile device during checkout. Clients receive an email or text message with a Self-Pay link to view transaction details, add a tip, process their payment, and save or print their receipt.
Deliver a Chairside Checkout
Meevo's enhanced mobility means your staff can use a tablet or mobile phone to create a chairside check out for clients. Employees can add services and products, book future appointments, and save preferences for a guest right from their chair or treatment room - creating an efficient check out process and keeping your front desk staff free to focus on other things.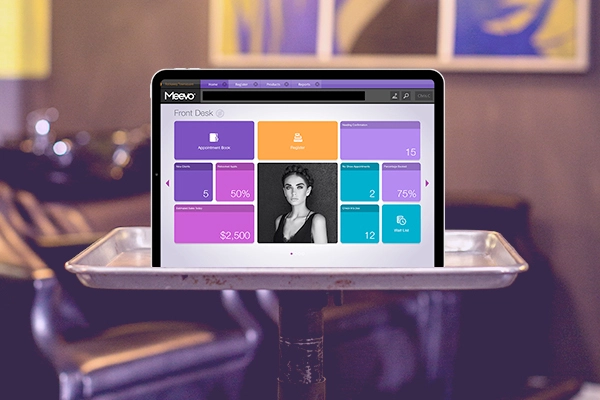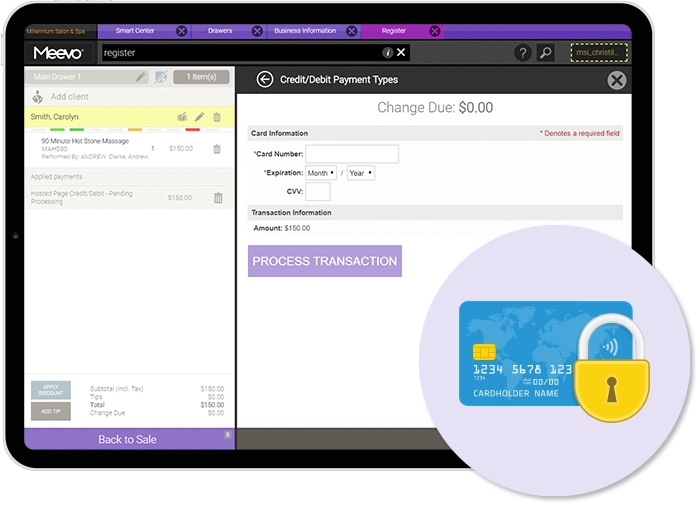 Store Client Payment Methods
Store client payment methods to save time at check out and automate future payments right inside MeevoPay, offering your clients and staff a safe, secure, and convenient way to interact with your salon or spa while speeding up the checkout process.
Why Go Contactless?
There are many reasons to use Meevo's contactless mobile salon booking software:
Greater Safety and Security
Contactless payment technology is secure. The technology that lets information travel from credit card or device to the software is encrypted so hackers can't access it. Accepting contactless payments helps reduce your risk of fraud while keeping your clients' data safe.
More Bookings and an Improved Client Experience
Using a contactless salon booking system can lead to more client bookings, as it makes it easier for people to schedule follow-up appointments. The more reservations your salon makes, the higher your potential revenue.
Streamlined Check-Ins
Offering contactless check in and chairside checkout eliminates a crowd of people at the front desk. With contactless check-in, clients can use the app or send a text to let you know when they've arrived. You can then message them when you're ready to start their service. In the meantime, they can wait in their car or wherever they are most comfortable.
Speedier Checkouts
Chairside, contactless checkout streamlines the process. The client doesn't have to walk up to the front desk or wait for a salon assistant to help them at the register. They can pay before they leave the chair—whenever they're ready.
Schedule a Meevo Demo
See for yourself why 100,000s of salon and spa leaders like you have fallen in love with Meevo. Schedule a free personalized consultation.