Mobile Spa and Salon Software
Today's clients are on the go and need a booking option that meets them where they are, wherever and whenever that may be. Mobile salon software allows you to book appointments 24/7 and improve the client experience, while making things easier for your staff.

With Meevo's mobile capabilities, you have the tools to run your business, manage employees and view real-time data with full functionality—from any device, anywhere.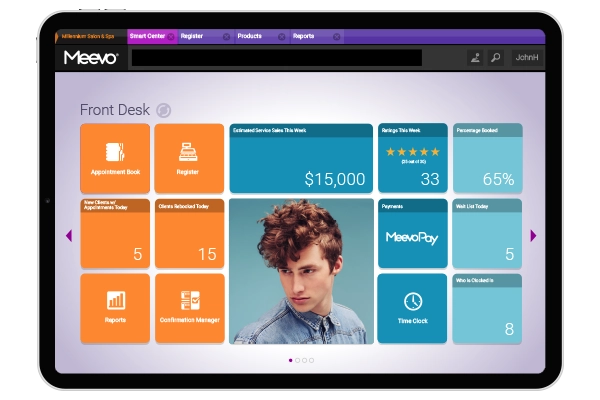 What You Get with Meevo Online Salon Management Software
Meevo mobile spa software offers features that support your clients, your stylists, your front desk staff, and your salon as a whole from any PC, desktop, Android, or iOS device.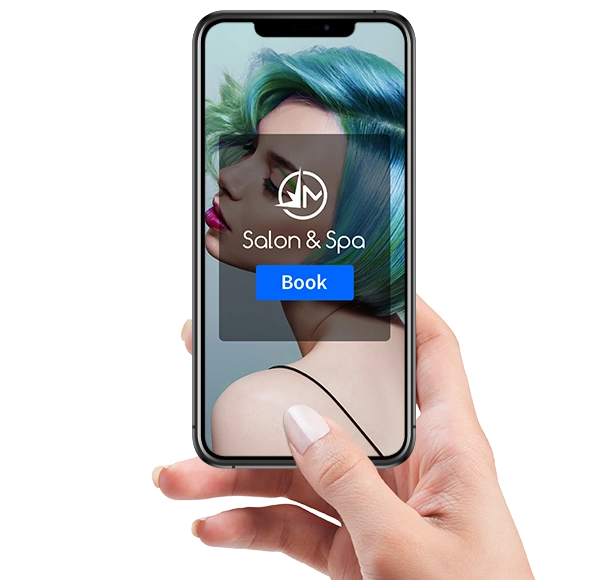 Mobile Features that Transform Your Client Experience
Put your salon and spa at your clients' fingertips with Meevo's on-the-go features. Maximize a guest's experience by offering mobile check-in, chairside checkout, and online booking. They can also buy e-gift cards from the comfort of their home, office, or wherever they may be!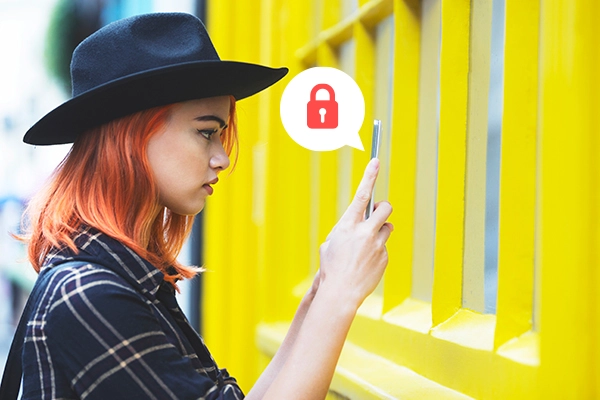 Features that Keep Your Data Secure
Configure Meevo spa and salon software so each team member has their own security permissions. Limit or restrict the ability to see data on a mobile device while the service provider is away from the salon or studio.
Features That Free Your Front Desk
Meevo makes the check-in (or checkout) process as easy as 1, 2, 3. Simply hand your client a tablet to fill out important intake forms. And when the front desk team is multitasking, which is most of the time, they can still book, change or cancel an appointment from anywhere on the floor by using any mobile device.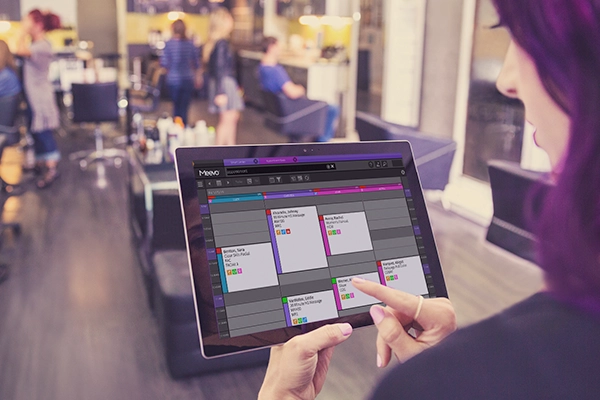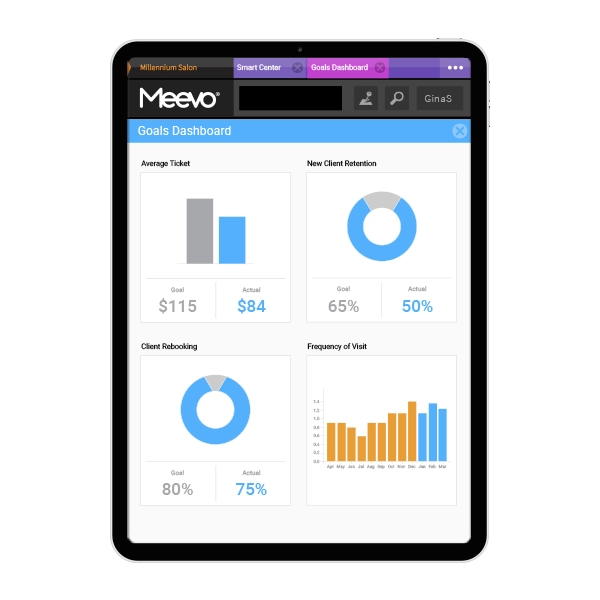 Features That Sync With Your Business
Meevo lets you keep tabs on your salon and spa, even when you're away. Use the Smart Center custom dashboard to view real-time data, define business and employee goals, and set security settings by role.
Why Go Mobile With Your Salon and Spa Software
Everyone associated with your salon and spa will see the benefits of using a mobile software platform. When your salon goes mobile, you'll have happier clients, stylists, staff, and owners.
Happy Clients = More Bookings
Clients who love every step of the process at your salon, from booking their appointments to paying for their services, are more likely to return again and again. Even better, they're likely to tell their friends about their experience, leading to greater retention rates and more new clients.
Happy Salon Owners = Higher Success Rates
Mobile salon software lets owners keep track of their salons even when they're away from their businesses. Setting goals allows you to see how your salon is performing and make adjustments as needed to meet demand or reach your targets. You can also manage employees from afar, keeping your salon or spa running efficiently and effectively.
Happy Stylists = Higher Retention Rates
Stylist turnover hurts your salon's bottom line. When your most popular stylists leave, they often take their following or clients with them. A mobile salon software program that streamlines booking and scheduling and makes your stylists' jobs easier means higher retention rates. Keeping your stylists working for you for the long haul means you spend less time and money hiring and building your client base.
Happy Front Desk = Higher Sale Rates
Mobile salon and spa software eases some of the burdens on your front desk staff. Since clients can easily book online, your front desk team can do more than spend all day juggling a constantly ringing phone. They can also pass off some of the checkout and rebooking processes to the stylists, meaning they can better focus on merchandising your salon and promoting product upsells. When clients have questions about a service or product, the front desk can give their full attention.
Schedule a Meevo Demo
See for yourself why 100,000s of salon and spa leaders like you have fallen in love with Meevo. Schedule a free personalized consultation.