Ready for new clients? You've come to the right place! You probably already know how crucial client retention is for your salon or spa, but attracting fresh new faces is equally important. Every beauty business experiences client turnover at some point and when it's time to focus on growing your customer base, you'll want to have some strategies in place to help you reach your goals. Follow along to learn more about all the ways you can effectively build your clientele!
What attracts clients to a salon?
Your reputation and reviews are of utmost importance when it comes to attracting new clients to your salon. Clients typically rely on recommendations from friends or what they can find online through stylists' portfolios.
2. Get Savvy with Social Media
4. Go Mobile & Allow New Clients to Book Online
5. Leverage Loyalty and Reward Programs to Attract New Clients
6. Make an Impression on New Clients with a Strong Online Presence
9. Create an Exceptional Guest Experience New Clients Can't Resist
10. Co-Market with Local Businesses
11. Promote Unique Service Offerings
12. Connect with Local Influencers
12 Tips on How to Build Clients as a Hairstylist:
1. Identify Pain Points
Identify your clients' pain points and address how you can help them directly through social media and paid ads. If there are other salons and spas in your area making the market competitive, finding business differentiators and
identifying pain points
such as distance, price, membership options, booking flexibility, online booking, and convenience will help guide your direction on how to effectively market your business to new clients.
2. Get Savvy with Social Media
Social media is a great place to make your business stand out and attract new clients online. Use geo tags and hashtags like #HoustonHair or #OrlandoSpa to catch the attention of locals and make your brand more top of mind. A recent study revealed that
55% of consumers discover new brands via social media
, so you better show up and make a stellar impression on both new and existing guests. Post photos and videos of your salon or spa space, especially if it's something to really be proud of! Share tips, tutorials, and videos to better engage with your audience and give them a reason to follow you if they aren't already. And let's not forget about the before and after pics of your best work–
53% of consumers find images more important than ratings or reviews
, and this is especially true for the beauty industry.
3. Host Giveaways
Giveaways, contests, and branded hashtags are all amazing ways to generate some buzz around your business. Put together a small basket of retail products, offer a free service, or even create a themed giveaway bundle relevant to the season or a holiday.
Promote your giveaway both online through your website and social channels, and don't forget to give it the spotlight on-premise, too so everyone knows about it. As part of the giveaway requirements, ask participants to tag two friends, re-share your post to their story, and use your custom business hashtag to enter! It's one of the fastest way to spread the word that your salon or spa is a wonderful place to go for beauty and wellness, but also that you care for and give back to your clients.
4. Go Mobile & Allow New Clients to Book Online
Mobility is critical now more than ever and customers usually expect it. Make sure your website is performing well on smart devices so potential new clients are met with a seamless, mobile-friendly experience with your business from the very first encounter.
Want to take mobility a step further? Utilize a salon or spa software like Meevo to incorporate
Mobile Check-Out
from anywhere in your business to create a simple and streamlined process that will keep them coming back.
5. Leverage Loyalty and Reward Programs to Attract New Clients
Offer your existing clients rewards for referring new clients to your salon. You can add this into your already existing
Membership and rewards programs
, or create one from scratch that incentives your loyal customers to bring in their family and friends for a day of beauty, relaxation, and pampering. Instating a well-thought-out program will not only bring in new clients, but increase frequency of visit and loyalty in your already existing ones.
6. Make an Impression on New Clients with a Strong Online Presence
Striving for and maintaining a strong online presence not only makes your business more reputable and visible, it establishes trust with potential new clients who might view your salon or spa's digital business listings. Proactively
manage your reputation
by monitoring and answering customers online. The Meevo Marketing suite and its built-in
Online Presence Management platform
helps simplify reputation management, making it easier than ever to attract new clients.
Keep all of your business information like working hours, contact points, and depending on the website, an active button that allows clients to access your site or book an appointment directly from that third-party platform.
Update your website and digital listing profiles with fresh content and pictures every so often to help boost your ranking position and visibility online. Search engines are more likely to recommend your business if they know you're making frequent updates and putting in the work to get noticed more!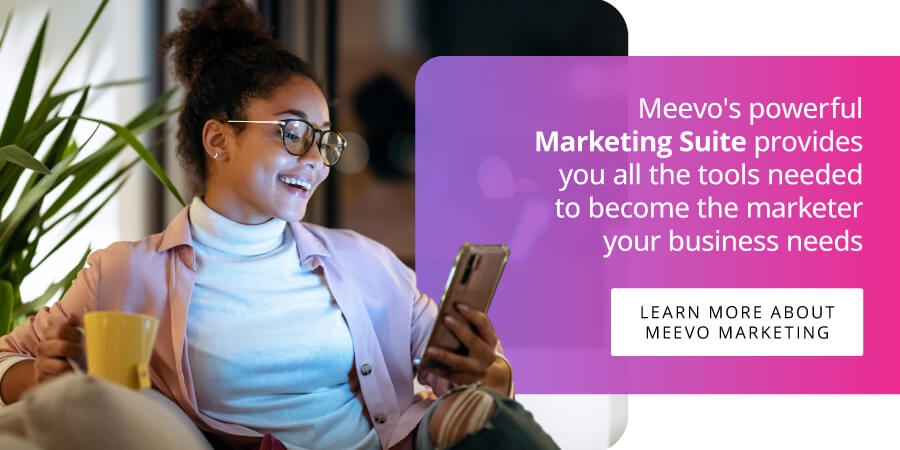 7. Get a Business a Facelift
In addition to managing your online reputation, you should also update your website to match your brand aesthetic and messaging so you make a great first impression on new clients. Make sure it's easy to navigate, that pricing is available to view, that all of your services offerings are up-to-date, any special offers or deals happening, and that you maintain a clean and professional look and feel, and that there is a clear call to actions that ask website visitors to book appointments.
8. Ask for Reviews
Don't underestimate the power of word-of-mouth marketing when trying to attract new clients to your salon or spa. Your reviews speak volumes about how you operate your business, the staff you employ, the guest experience, and so much more.
When it comes to online reviews, the more the merrier. Get in the habit of asking every single customer to leave feedback on their service and let them know how important reviews are for your business. According to a recent survey, 9 out of 10 customers read reviews before purchasing and 58% said they would pay more if the brand had good reviews. You never know what raving testimonial might introduce you to new clients!
9. Create an Exceptional Guest Experience New Clients Can't Resist
How do you make your salon or spa the talk of the town? By crafting a truly phenomenal guest experience! This should be at the forefront for your entire team, whether they're dealing with new clients or existing ones.
Rolling out the red carpet and catering to your guests' preferences creates a memorable encounter they'll likely speak very highly about to friends and family. From the initial booking to the moment a client walks out the door after a service, they should feel valued, comfortable, and of course pampered!
10. Co-Market with Local Businesses
Co-marketing is a great way to meet new clients and promote your beauty business. Try to build connections with other local businesses in the area and also look for mutually beneficial opportunities within your existing network.
Start by jotting down a list of local businesses that might be worth reaching out to like yoga studios, coffee shops, smoothie bars, gyms, etc. Ask if you can hang a promotional sign in their lobby and provide them with exclusive discount cards to give to customers. Co-marketing is a give-get partnership so be sure they're also getting something valuable out of the exchange.
11. Promote Unique Service Offerings
Many businesses (not just in the beauty industry) are finding ways to give their brand a competitive edge by offering more unique and flexible service options. This is a great way to set your salon or spa apart and draw in more new clients.
Consider hosting after-hours events like a styling master class or makeup tutorial with food and drinks provided to make it an eventful evening. Personalized photoshoot services could also be an appealing option that your competitors probably don't provide.
12. Connect with Local Influencers
If you're on Instagram or TikTok, you're likely already following a few influencers. Believe it or not, 61% of consumers trust influencer recommendations over the 38% that are more trusting of brand-produced content.
Identify influencers local to your area who have a strong following and good engagement from their audience. Start by sending an outreach message letting them know you're interested in collaborating. If they're on board with the partnership, invite them to your salon or spa so they can get a feel for your brand and discuss the nitty gritty details from there.
New Clients Are on the Way!
Follow these 12 tips and you'll be attracting new clients to your salon or spa in no time! Share this article if you liked these tips and don't forget to check out all the other inspiring resources in the
Meevo Inspo Hub
!