Evolving into an eco-friendly salon is becoming increasingly important. The beauty industry creates 877 pounds of wasteper minute. To reduce this impact, every salon has to do what it can to become more sustainable.
As the demand for environmentally friendly supplies and practices has increased, sustainability in beauty salons has become more accessible. Greener hair care products, biodegradable supplies, and paperless systems are just a few ways salons can become more sustainable. Making these changes can also save you money and grow your business.
Our simple tips are easy to implement and will help you go green.
What's in It for Your Business?
Practicing sustainability in your business will help you attract more customers, especially people who favor sustainability and anyone who's sensitive to harsh chemicals. As a result, going green will help you to build a good reputation for your business. Plus, as demand for these services and products increases, you can expect prices for green salon equipment and products to decrease, making going green more affordable for you.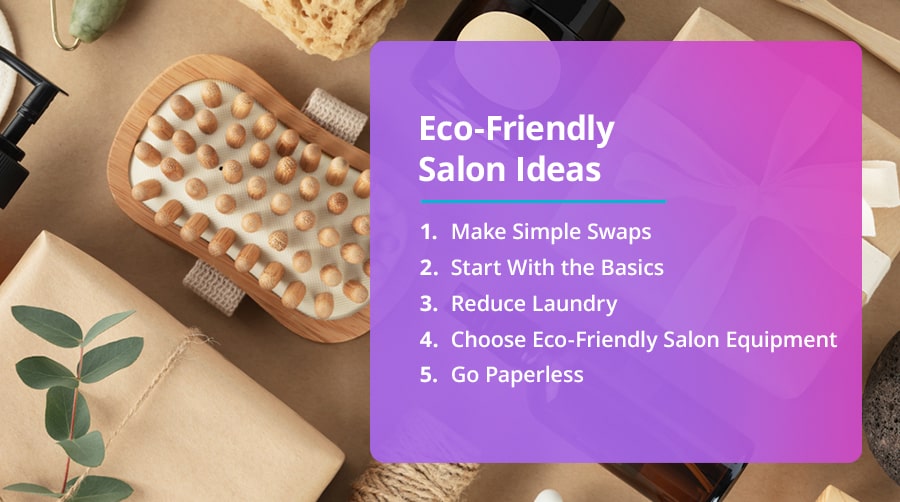 Eco-Friendly Salon Ideas
Are you looking for ways to practice sustainability in a beauty salon? These are simple, sustainable ways your team can lower your salon's carbon footprint.
1. Make Simple Swaps
Start your transition to a more sustainable salon with these practices:
Give your lighting an upgrade: Invest in energy-efficient LED lightbulbs. They use at least 75% less energy and last much longer than a traditional light bulb. "I haven't changed a light bulb in a year," explains James Alba, owner of the B Hive Salon in Hillsdale, NJ. Install motion sensors in the restrooms, supply rooms, and break rooms to reduce energy usage (and your electric bill)!
Switch to cold water: Turning the cold water in your washing machine to hot water is added expense. According to Money Crashers, switching from hot to cold water creates an annual cost savings of $136 on 400 loads and is perfectly hygienic for cleaning towels or clothing.
Ditch the magazines: Set up a shelf of hardcover books clients can read, and you'll save money on constantly buying magazines. Consider buying secondhand poetry books, travel books, and cookbooks.
2. Start With the Basics
When you're unsure where to begin, reevaluating your essential everyday items is a great place to start.
Start a recycling program: Add a few trash cans for recycling and place them next to your regular trashcans to keep recycling top of mind (and easy to do). Use Meevo's Mobile Register to give your clients the option of receiving their receipts via email for a greener option.
Cut out plastics: When offering coffee or water to your clients, switch to 100% post-consumer recycled products or use glasses.
Lower water usage: Water is essential in salons. Excess water usage is harmful to the planet and your water bill. Switching to eco-friendly shower heads canreduce water usage and increase water pressure so washes go faster.
Incorporate clean hair products: Offer a selection of sulfate-free shampoos or natural beauty products for more naturally-focused clients.
Source locally: Use local products whenever possible. It builds great relationships within your community and supports other local businesses.
3. Reduce Laundry
In a salon, you're constantly doing laundry. While running the washing machine is unavoidable, you can reduce the number of loads you do. When you do laundry, only start your machine when it's full. Running full loads will reduce your water bill and is a simple way to conserve water and reduce your carbon footprint.
Using a natural detergent will minimize chemicals in the environment. Switching to biodegradable towels and clothes can help reduce the number of micro-fibers entering the waterways, too.
4. Choose Eco-Friendly Salon Equipment
Energy-efficient equipment is better for the climate and saves money on your energy bill. The less energy equipment uses, the fewer carbon emissions there are in the environment. Smart appliances also give you better control over elements such as temperature and timing. Replace your old equipment with newer appliances with better energy ratings.
5. Go Paperless
How much paper do you use in your salon? Going digital will help you go green. Switching to a paperless online booking system is an energy-saving investment for your salon. Clients can make and adjust appointments entirely online at their convenience, and you can keep better track of who's coming in and when. It's a win-win for your salon, your clients, and the planet.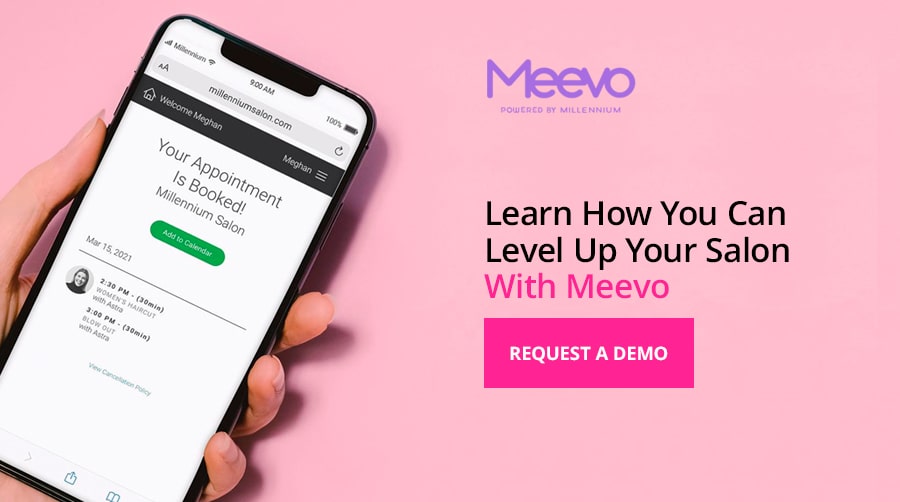 Learn How You Can Level Up Your Salon With Meevo
Becoming more sustainable is better for your business. You'll build a better reputation for your salon, save more money in the long run, and have peace of mind that you're contributing to a greener planet. Make a few small changes first, and once those are sustainable, you can roll out more.
Our salon management system can help you go completely paperless and elevate your salon operations. Our leading software offers a paperless, streamlined experience for your customers and enables you to run your business with the touch of a button. Ready to make the switch? Schedule a demo with us today!